There's more zombie/parkour action to be had in the Dying Light universe, as Bad Blood has hit Steam's Early Access program on the PC.
Bad Blood
No, as usual and since this is an Early Access title, Bad Blood isn't finished. The development team will be listening for player feedback and looking for issues. It does, however, look stunningly polished even at this stage. Though that probably has something to do with it being based off of the original Dying Light. So it's kind of done, even though it's not done.
On another note, you apparently can't play Bad Blood unless you've bought into the season pass. That's right, you first must buy the Founder's Pack. That allows for the access to this, plus exclusive stuff for the full game (once it's released). That'll run you $19.99 USD.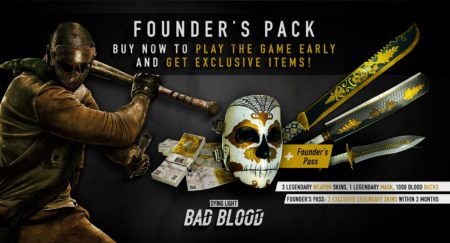 "We're really happy with the results of our recent Global Play Test and I'd like to thank all of the players out there that took part and gave us such helpful insight," said Maciej Łączny, Producer. "We've made some big leaps in development based on that activity and look forward to the road ahead as we prepare new content for the game, the first of which will  be available in the next few weeks."
So Bad Blood requires the $19.99 Founder's Pack to play early. But interestingly enough, it'll be a free to play game once it launches. Just kind of a strange little factoid there. If you're dying to play though, that's your only option.
Theres no firm date for that just yet, but you can expect to for not just the PC, but also consoles.