"The End" says Marvel Comics, in a new press release with the attached image splashed across it. But what does it mean for Daredevil and Matt Murdock?
Deviltry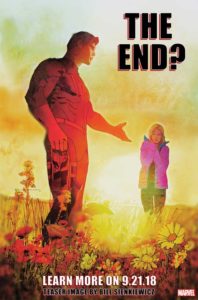 So what's happening here exactly? As teases go, this one's even more out there than Marvel's teasers usually are. All we've got to go on is Daredevil,, sans mask, holding out a welcoming hand for who looks like none other than former love-interest Karen Page.
While she's alive and well on TV in Netflix' Daredevil show, she is very dead in the comics. So, that begs the question – is Matt about to be killed off? That seems like it'd be a strange move since he's pretty popular these days. Not to mention that he is about to see a third season of his aforementioned show debut on Netflix.
So could anything else be the story here? Well, while it's quite damning to see Page and a title like "The End", it's also entirely possible that there could be someone or something playing with Murdock's mind. Perhaps things are not as they seem. The End could still be an apropos heading however, if what's to come causes him to hang up his billy clubs.
And if that's the case, then we could be in for a new DD. Though who that might be is something that I couldn't even take a guess at. If you're a Daredevil fan though, whatever this turns out to be bears watching. Expect more on September 21st.