One of the most impressive assemblages of fighting game properties ever, Storm Collectibles' stable of licensed action figures got even more impressive.
Storm Fighters
There have been many different series' of Street Fighter and Mortal Kombat action figures. Toys starring the vast array of characters go all the way back to Hasbro's G.I. Joe offshoots that starred both fighting game classics in the early '90s. Some have been good, some have been great, but none have approached what we have in the modern age.
I am a pretty big fan of the SH Figuarts Street Fighter line. But as much as I dig that, I like this series from Storm Collectibles even more. Storm's collection has so far included a bunch of the biggest fighters from Street Fighter V, though honestly they're done in such a way that most of them carry their iconic looks just fine. Sure M. Bison has grey hair, but besides that he looks awesome. And while Ken has his black shirt in the version that's available right now, Storm has a classic version on the way.
Another reason I like what Storm is doing is that they're not just Street Fighter.
Storm Collectibles has been on a spree. That might be putting it mildly, since the toy maker has picked up almost every one of the biggest fighting series' in existence. Mortal Kombat, King of Fighters, Tekken, and now the DC Comics fighting series Injustice are all a part of Storm Collectibles' slate of offerings.
Injustice
The Injustice figures on display at Comic Con were extremely limited. Only Lobo and Darkseid were available to look at. Both looked awesome though, and look like they might be some of the most exciting DC figures in years.
Tekken
The Tekken figure series continues past the current Heihachi with his son Kazuya. Kaz looks pretty much exactly as he should, and will apparently come in two different color variations when he hits stores.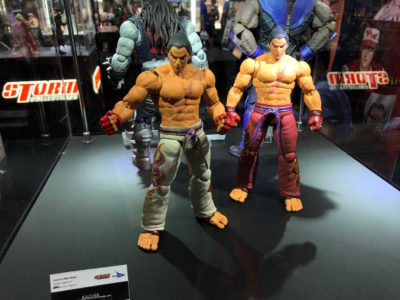 King of Fighters
Much like the other, newer lines above, the KoF series had not all that deep of a presence at the Storm booth. Bad guy boss character Rugal and Kyo were on hand though, and looked just like they do in the game.
Street Fighter
And now we get into the big boys – the largest and to this point more fleshed out series' that Storm has. The Street Fighter figures are largely based on Street Fighter V, the latest game in the series, though Storm is expanding that.
At the Con, we saw not only a classic Akuma, but also a classic Ken figure. Both looked tremendous, and Ken will also be getting a Violent Ken variant edition, though we don't know where that will be appearing just yet.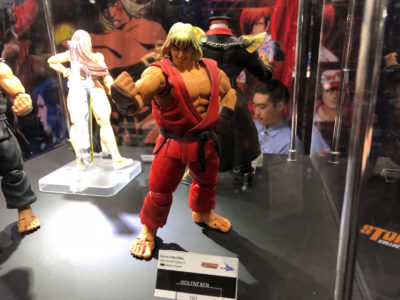 Aside from Ken, there were also a few new variants to see. Those included new takes on Chun-Li, Bison, and Ryu.
These looked great, no question, but I hoping for more new characters. SF mainstays like Sagat, Guile, Blanka, Vega, and Balrog have yet to be even talked about as far as I'm aware. I'd much rather have any of the above, than a new Bison in an overcoat.
Mortal Kombat
While the Street Fighter samples were somewhat underwhelming, Mortal Kombat was easily the star of the show. Not only were there awesome new MKII-inspired figures to gawk at, but the series seems to be moving beyond that game now, and into MK3 with an amazing looking Sub-Zero.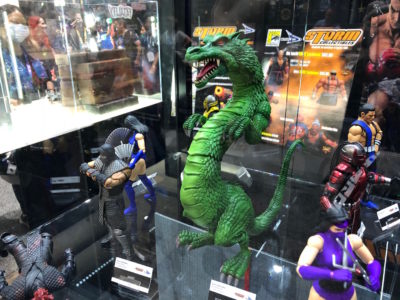 Unlike with the Street Fighters, I think I might need to have all of these. That's not to say that there aren't figures that we still absolutely need to get out of this line though. Johnny Cage, Sonja, Jax, and even freaking Raiden are still MIA.
In all though, it's tough to be down in any way on Storm. The company has produced some stunning figures, and continues to wow fighting game fans, including this one. Now, fingers crossed for more reveals come NYCC time this October.