DC Comics' Justice League has had a long and storied history. Chartwell Books' explores that with Justice League: 100 Greatest Moments.
Historic
There are as many stories in the Justice League's vast history as there have been members. DC Comics' premier team, the League has more or less settled into a set roster over the last few decades. But even so, the big moments have been just as numerous as they've always been.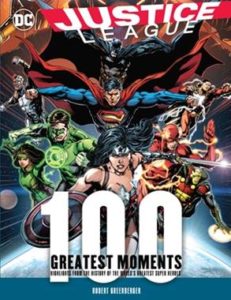 That's the idea behind Justice League: 100 Greatest Moments from Chartwell and author Robert Greenberger. The tome assembles the best of the best in terms of arcs, and that goes for the big ones, and the more personal, smaller stories.
Greenberger wasn't the sole person putting this one together either. Both pros and fans had their hand in its assemblage as well.
From their first rallying issue to the League finally reaching the big screen in the 2017 feature film Justice League, the members and their stories has remained entertaining for readers and watchers.

The selections of iconic comic moments to come were not chosen in a vacuum.  Moments chosen consist of nominations from various Facebook fan groups as well as former JLA scribes Mark Waid, Kurt Busiek, J.M. DeMatteis, Bob Rozakis, Gerry Conway, Marv Wolfman and former DC editors Michael Eury and KC Carlson.  Ace researcher and comics historian John Wells and current JLA editor Brian Cunningham also offered input on the most contemporary selections.
Justice League: 100 Greatest Moments is available right now and will run you just $24.99 USD. A follow-up volume is also on the way, and will hit this coming October.
More to come
Also from Greenberger, DC Comics Heroines: 100 Greatest Moments will celebrate the female heroes that call the DCU home this October the 30th.
From Batgirl to Wonder Woman, all of the greatest female characters of the DC Comics universe are paid homage in this epic tome, DC Comics Heroines: 100 Greatest Moments.

Broken down, moment by moment, readers are able to follow pivotal points in the development of their favorite heroines. Includes an overview of  100 notable scenes where women showed just how tough they are.

High quality panels are pulled from the silver and bronze age up to the present. Favorites like Wonder Woman, Batgirl, Supergirl, Black Canary, Zatanna, and many more make an appearance in this volume.