Marvel's takeover of all things Conan the Barbarian, in the comics world, continues with a pair of new volumes announced for January.
The savage sword
If you're a fan of Robert E Howard's savage barbarian, then you no doubt know already that Marvel Comics is once again taking the reigns of his comic book adventures. The famed warrior will be returning to the publisher's stable this January, and bringing fresh adventures with him.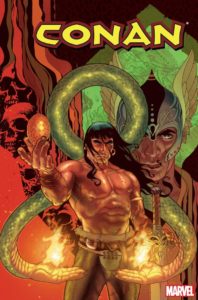 These two books that we're talking about here though, are not that. In a way, they're much more interesting.
The Conan Chronicles Epic Collections will be collections… of the book's Dark Horse Comics run. Weird? Yes, and I suppose there was some serious license wrangling happening behind the scenes to get it done. Still, it's pretty freaking awesome to see, and a boon for those who might've missed out on some truly excellent sword and sorcery comics.
The initial collection will be subtitled Out of the Dark Hills. It will include work from both Kurt Busiek and Cary Nord. These stories are legendary stuff, with adaptations of classic Conan work from Howard himself. Within the pages of this chunky edition, you'll find Conan: The Legend #0 and Conan (the 2004 run) issues #1-19.
Volume 2 meanwhile, is The Heart of Yag-Kosha. That one will have stories of a younger Conan, and will include both the City of Thieves and Hall of the Dead tales. But all of this early-2000's stuff is just the start of things.
Late next year, you can watch for even more Conan Chronicles Epic Collections. Those will compile the character's various one-shots and mini-series', spanning all the way from 2004 through 2016.