Always a highlight at SDCC is Hasbro's sprawling booth, which usually contains within a heaping helping of fresh Marvel Legends.
Legendary
To put it mildly, Hasbro has been on a roll with the Marvel Legends line. Yeah, the line is usually top notch as far as light-collector fare goes, but it's been head and shoulders above even its norms as of late. That's mainly because the company has been producing one of the deepest selection of Marvel heroes and villains maybe ever. And that's a tall order considering the excellent Toy Biz origins that the series spawned out of.
Nonetheless, it's pretty accurate from where I sit. Not only are we getting regular doses of Marvel movie-themed figures, but also a ton of comics inspired ones per year. And those aren't just modern designs either. For every Miles Morales and Spider Gwen, ML also delivers classic takes on Wolverine, Doc Ock, and the mighty Apocalypse.
You'll notice a few X-Men characters in the mentions I threw out above too, and that's because Marvel Legends has been a godsend for X-fans in the last few years. Marvel's mutants may actually have started their comeback in action figure form, before the comics resurgence that's happening right now. And that's almost all on Hasbro… well, I guess it's on Marvel too, for allowing the waves of mutants to move forward.
At this past Comic Con, we saw more X-Men, more Avengers, more Spider-Man and other solo heroes and villains – just kind of more of everything. And oh my was it wonderful.
Fantastic Four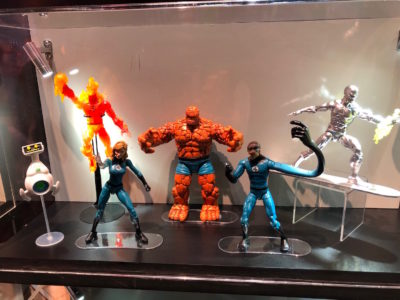 Let's start with a brief look at the Fantastic Four figures on display. This is the most limited Marvel line from Hasbro, in its current state anyway. Since Fox entertainment properties (who owned the movie rights) is now a part of Disney (Marvel's parent) I'd expect to see a lot more FF goodness in short order.
As it stands now though, the above is either out or coming up very soon, and is exclusive to Walgreens stores. Personally I'm still waiting on Thing and Silver Surfer to complete my collection of this terrific Legends sub-line.
Venom and Spider-Man
Some very cool stuff was included in the Spidey-based cubes in Hasbro's booth, including a couple of big surprises. The Venom wave (which should be shipping soon) was out and in full force, looking great with Venom, Carnage, and all the symbiotic characters that make up the rest of the wave.
Popped into the case though, almost on the last day, was a shocker (no, not actually Shocker) with the Red Goblin! Norman Osborne's latest alter ego was looking insane, dripping in it's hastily bonded Carnage symbiote.
Also in the case was Silver Sable, who looked great, and an oddly covered up Black Cat. I don't know if that's a new look for the character or not, but I'm used to seeing Cat be a little more "out there", if you catch my drift. A fresh Miles Morales Spidey and Gwen Stacy Ghost Spider was also on display, and will be making up a two-pack at some point soon.
Then there was the currently shipping Spider-Man series, which includes a really great Doc Ock figure. This is a terrifically classic look at Otto, though his arms disappointingly can't hold him up all by themselves. You need some kind of stand, or to brace him up against something.
Oh, right (and I feel really bad about this one), there was a Kingpin build-a-figure on display too. He showed up on the very last day and I did not get a shot of him. He is pretty massive though, and wearing his iconic white suit. There are shots out there on the net if you want to check him out.
Avengers and Marvel movie magic
Of course there were Avengers-themed figures ready to be shown off. Plenty too, if you count Captain Marvel and movie figures.
The currently shipping Ten Years series of Marvel movie figures was out, as well as the SDCC exclusives like the Defenders box set and Red Skull with Tesseract. Additionally, we got a taste of the Captain Marvel wave with a cosmic black and green figure, and a fully fleshed out wave of more Black Panther figures. Those looked extremely cool, loaded with excellent detailing.
Also out was a two-pack of AIM troopers. These are done in the same way as the Hydra soldiers that were Toys R Us exclusives last year. So that means you'll have lots of building and display options. And of course that you'll probably all want more than one set. Unfortunately, the pic of these bad boys was blurry, so you won't find it above. Though you can see one of them in the shot with the Captain Marvel figure I mentioned. And before you ask, yes, there's a classic AIM hood/helmet included.
Then there was Hercules. One of the more forgotten Avengers from the comics, the olympian Hercules was looking awesome in a brand new sculpt that just might wash that early Hasbro Legends version away for you. He was the sole representative of any Avengers comic-based wave though, so I'm not sure where he's exactly going to be fit in. Here's to hoping that there are some more classic comic book Avengers coming up with him.
X-Men – Riders and Legends
I saved the best for last (though that might be subjective), since the X-Men were all over the Marvel Legends section of Hasbro at SDCC 2018.
First up, we have a two pack with a Day son Future Past Wolverine and a Sentinel. This is a really nice set in person, but was nearly impossible to get a quality shot of with tons of glare on it. What you'll get here though, is a repaint of Logan, all done up as in the classic story arc that inspired the movie of the same name. Right along with him is a Sentinel, that was originally released as a part of the 3.75″ Marvel action figure line (which seems to be gone btw).
If you missed out on him a few years ago, this is a great chance to snap up what's really a cool Sentinel figure. This set will be a store exclusive, though I'm not sure just where it will land yet. I had heard either Walmart or Amazon. So stay tuned.
Legendary Riders will also be getting some more X-Men love. Right now the Wolverine/Patch set is shipping out, but he will be joined by a ridiculous (intentionally) Deadpool box, and Professor X himself! I actually thought the Prof was a build-a-figure when I first saw him in the case with the other 90s X-Men, but he is in fact a Rider. So he'll be boxed like all the rest and includes that awesome Cerebro helm. I assume too, since he's a "Rider", that he'll be a fully articulated figure, though there's no confirmation on that.
Oh, and as for Pool, you'll notice that he's not alone in this set.
Also in the box with him and his Vespa is Dogpool and Squirrelpool. The two waves of Deadpool figures were also out, with the Sauron series being the one that's shipping soon.
Alson in the case, and rounding things out for us, were some more surprises. A 90s Gambit, an incredible Archangel (that'll be a box set with a bunch of accessories), Magik (also an exclusive) and more were present. Cool stuff.