Another Sonic comic book? Sort of. This one will focus on the Sonic the Hedgehog side-series (and upcoming game from Sega) Team Sonic Racing.
Wouldn't he be faster if he just ran?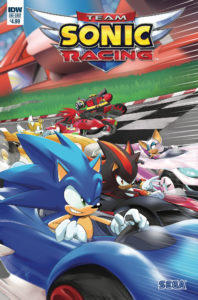 That's a question posed by our podcast host Erich, and I think it's a good one.Nevertheless, it's also one that Sega doesn't care to answer since it'd probably negate the whole hook of a Sonic kart racer. That's what Team Sonic Racing will be of course, when it hits consoles later this year. Also arriving later this year will be the comic of the very same name, courtesy of IDW.
The new series will follow Sonic, Knuckles, and Tails as they journey to an alien world to do a little racing. In cars. Expect to see Amy, Big the Cat, and more Sonic series mainstays in the book, as well as villains like Robotnik (that's his name).
Helming the series will be writer Caleb Goellner, who'll be joined by artist Adam Bryce Thomas. You might know him if you're a Sonic fan, since he's worked with the character before.
"There's a lot to be thrilled about with Team Sonic Racing," says associate editor David Mariotte. "The game exemplifies a lot of what's best about Sonic—naturally, there's action, speed, and style, but there's also teamwork and Big the Cat. Adam and Caleb do a great job of translating all of that into one of the best-looking, most fun comics we'll see all year."
Issue #1 of Team Sonic Racing pulls into stores this October.