The Martians are invading! Classic sci-fi/horror property Mars Attacks is back, and once again hitting the printed page thanks to Dynamite Comics.
Ack Ack!
"I've been waiting to see Dynamite's take on Mars Attacks! for over a year and I'm so excited with what the creative team has done," said Nick Barrucci, Dynamite CEO & Publisher.  "I've been a fan ever since the 1962 trading cards and our series really reflects the tone of the original."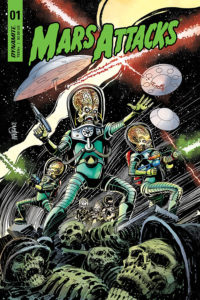 It's been a while, but has anybody really forgotten Mars Attacks? What started out as a trading card property has spawned a universe of media and even gotten into action figures. There was a comic book too, once upon a time in the late 90s. As I remember, it was pretty good too. And now it's back.
Mars Attacks! from Dynamite Comics will center on Spencer, a down on his luck guy who's just trying to get some cash from his dad. As you might imagine though, things don't go according to plan, and both he and his pops find themselves on the wrong end of an invading Martian death squad.
The book will have Kyle Starks of Rick and Morty fame, and artist Chris Schweizer, who you might know from Unbeatable Squirrel Girl fame. The two will start things off, ray-guns blazing, this coming October.
"Mars Attacks! is coming back to comic stands and I'm thrilled to be a part of it," said writer Kyle Starks.  "I'll be bringing my two-time Eisner nominated trademark humor and action to this totally awesome and classic franchise."

"It gets even better.  We've got award-winning cartoonist Chris Schweizer for art duties and he's going to hit a home run," added Starks.  "Schweizer and Starks go together with Mars Attacks! as well as death rays and flying saucers.  This is going to be bonkers hilarious, bombastically over-the-top fun."