Mario Tennis: Aces landed on the Switch a little over  a week ago, on June 22. With it, the game brought some of the best tennis mechanics the series as yet seen along with a dangerously lackluster adventure mode.
The premise and modes
The premise in Aces is pretty much a non-factor as far as evaluations go. You play tennis. That's it.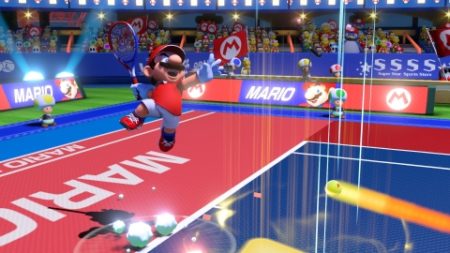 The good news is that gameplay is split up over a variety of modes. There is the single player campaign "Adventure mode." where the player takes on the role of Mario and works through a short campaign, which basically exists as a drawn out tutorial. The story gets pretty wacky, but there is never any real payoff.
Adventure mode takes Mario through a variety of different lands where different characters are dealing with problems that could use Mario's help. An Ice Golem takes over a mountain and freezes a bunch of shy guys, a mirror takes over a haunted mansion, and so on. Really, this is all pretty standard as far as Mario stories go.
Where adventure mode succeeds in teaching mechanics and telling a wacky story, it falls short in variety and length. The mode is easily completed in a few hours. Many challenges are simply repeated, leaving the player with a sharp lack of variety.
Other than Adventure mode, players can play local tennis against a friend or the computer, compete in local or online tournaments using two rule types, and even play a Wii Sports-like "Swing mode."
Gameplay
In terms of gameplay,  Aces is one of the most robust Mario Tennis games.
Players earn energy by charging up their shots. There are the usual shot types, but as the player earns energy, they can engage in zone shots, special shots, time dilation and trick shots. These all add something a little different to the flow of the game. Zone shots allow players in the right spot to respond to a poorly hit ball with fervor, while time dilation allows players to slow down time to get to an otherwise unreachable ball.
These additions add depth and strategy that really make the online tournaments come to life. Add in the fact that trying to block zone and special shots too early can break your racket, and the tension is ratcheted up to 11.
Gameplay is smooth, responsive and satisfying.
Every character brings something slightly different to the table. Characters like Waluigi and Bowser Jr. are defensive, while Donkey Kong, Bowser and Spike are powerhouses.
Presentation
Aces does not do anything especially groundbreaking on the presentation front.
Characters are detailed, the different courses look nice, and the music sounds good. Sound effects sound like I would hope and expect them to as well.  Aces isn't dropping any jaws, but that's just fine with me.
Overall
Aces is a competent Mario Tennis game with a lackluster story mode. The length, lack of variety and difficulty spikes make the experience tough to recommend. This is outweighed by the greatness of the actual tennis matches, however. The online mode is a joy, and fans of the pure gameplay aspects of Mario sports games will find a lot to love here.
Mario Tennis Aces
Release date: June 22, 2018
Platform: Nintendo Switch
Publisher: Nintendo
Developer: Camelot
Aces
Premise and Modes - 65%
Gameplay - 85%
Presentation - 70%
Tight and well executed mechanics make up for a less than stellar story mode. A robust online system ensures this Mario sports game will have life for some time.