Do you love campy horror? How about independent movies? Then chances are you dig Troma. And chances are you'll like The Art of Troma art book that Dynamite has cooked up.
Toxic Avenger!
I best know the Troma entertainment company from the relatively short lived Toxic Avenger craze from the early 90s. Capitalizing on the TMNT flavor of hero, Toxie had his own cartoon show, and a line of pretty awesome action figures too. Perhaps not so oddly enough, those figures were from Playmates Toys, the same company that still makes Turtles figures today. In any event, they were all in scale with each other, which was super neat.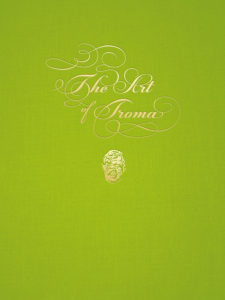 But enough about toys, because Toxie and crew are back once again, this time from Dynamite Comics, and this time within an art book. The tome isn't just Toxic Avenger of course, but actually focuses on all of Troma's properties.
Clocking in at 265 pages, and coming in both standard and collector's editions, this book is loaded. Inside, you can expect to find "never-before-seen film stills, rare posters, candid interviews, and buckets and buckets and BUCKETS of fake blood."
In addition to all of the above, the book also boasts a legitimately great writer. That's not something that you usually expect to find in a book like this, but Fred Van Lente is definitely that. The comic book scribe is a huge fan of Troma, and brought that fandom to The Art of Troma's pages.
"I had a really terrific time delving into the history of one of the richest stories in all of independent American movies. The book has turned out spectacularly, thanks to the incredible work of designer Jon Adams," remarked author Fred Van Lente. "None of it would have been possible without Lloyd Kaufman, Michael Herz and the Troma staff opening up their forty-year-plus archive to us, so big thanks to them. This book is a juicy distillation of a studio that's entertained its fans and pissed-off establishment types for decades."
Watch for The Art of Troma to hist stores this September.