Antigraviator harkens back to some of the racing games I grew up with. Check out my review of the latest anti-gravity racer inside!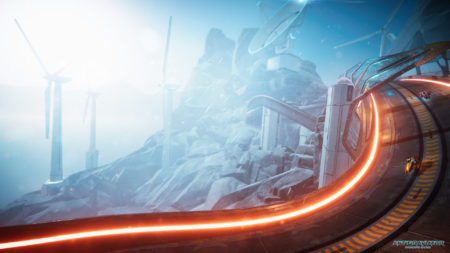 Antigraviator
Racing games have been around almost as long as video games have. This is nothing new. Antigraviator is the latest to bring us the anti-gravity hell on wheels, and they made sure they have upped the ante.
We start with a 'basic' model anti-gravity racer, that you can customize the appearance of, right out of the gate. As you earn credits, you have the opportunity to unlock new wings, transmissions, and even new body types if you save up. Now, each adjustment to your racer has pros and cons. You may have better handling, but less acceleration. Maybe you have insane acceleration, but an unreliable shield amount. You have to decide what will work for your style of racing, if you are going to win in this league.
Not Your Basic Racer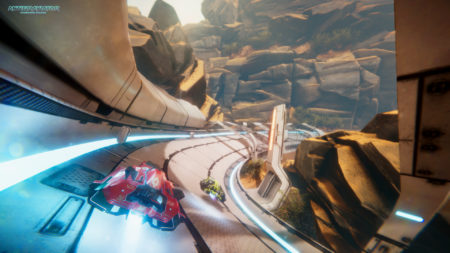 Sure, racing games have your vehicle and the other guys on the track. If you're in an anti-grav race, there are booster pads periodically on the course. Add to that, you have a nitrous-like boost ability that you can use on top of that booster pad, so you can feel like you are driving at light speed.
There are electrified barriers that line the edges of the race track. If you get too close to the edge, then your ship will be drained of its shield, and you have the potential of exploding. Sounds fun, right? With no limitations on how fast you can travel, those corners and guard rails come on faster than you would imagine.
If that's not enough to make you want to jump in, you also have the ability to place traps along the track. Everything from boulders to explosives and even torches are there to make sure that racing is no quick lap. Think Mario-Kart, only these traps have the possibility of eliminating you from the race! Think missiles and torches.
Challenge your friends to see who has the best lead foot (or in this case, trigger finger). I'm not much for multiplayer games these days, but the AI in this Antigraviator was enough to make me want to replay levels and beat my own best scores.
I loved the racing games of days gone by: F-zero and Gran Turismo come to mind. Somewhere along the way, I fell away from them. Or perhaps, I just didn't care for the style that the developers went with. Either way, I've had a blast working on my anti-grav racer.
There have been several nights where I get done working on projects or writing articles, where I find myself diving into another racing session. Those last 20 minutes before going to bed, or if you have an hour in between appointments, a perfect way to let a little steam off, and have some fun! It's been a long time since I've looked forward to spending a bit of time with a racing game. Now I've got one worth spending time on.
Limited Options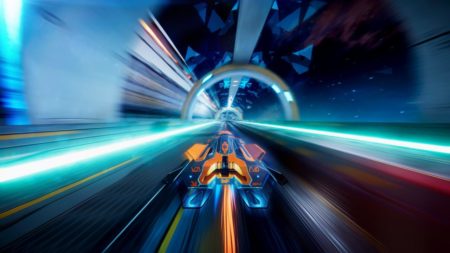 The only down-side that I have to say about Antigraviator is that I wish it had some additional options for you to choose from. The modification abilities seem somewhat limited with 3 of all your options. Body models, wing types, transmission, etc. Perhaps this could be material for future patches.
From developer Cybernetic Walrus and publisher Iceberg Interactive, Antigraviator will be speeding into your options soon. Do not overlook this revisit to what makes games fun.
Chaos Don't Need Wheels
Style - 94%
Gameplay - 85%
Customization - 70%
If you're looking for a game that allows you to race a few laps, with minimal need to adjust your mirrors or transmission specs, then Antigraviator is the game for you.