Actor Jon Bernthal is the Punisher in the Marvel Cinematic Universe, starring in the Netflix series of the same name. And now he's also the next figure in the One:12 Collective from Mezco Toyz.
Live action Punisher
After seeing translations of a few other heroes, fans finally got a  TV adaptation of the Punisher in Daredevil season 2. Unlike with previous movie attempts though, this one was pretty spot-on, offering both an extended origin, and expansion with supporting characters like Microchip. Actor Jon Bernthal was the one to bring Frank Castle to life on the small screen, and since then he's gone on to star in a full series focusing on the vigilante.
As we head into season 2 of that, we're getting the first figure of Bernthal's Frank in Mezco's One:12 Collective line. As usual with these figures, it's mighty impressive too. Much like with the comic book Punisher that's already available, the TV Castle is absolutely strapped.
Punisher is packed with tons of articulation, extra hands and heads, a phenomenal looking costume and plenty of hardware. He's up for pre-order right now, and should ship out some time from November to January.
Here's what's included: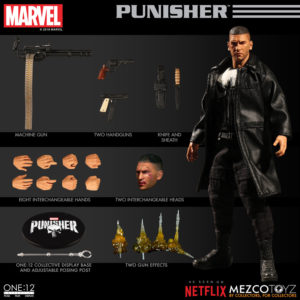 THE ONE:12 COLLECTIVE PUNISHER FIGURE FEATURES:
One:12 Collective body with over 28 points of articulation
Two (2) head portraits
Hand painted authentic detailing
Approximately 17cm tall
Eight (8) interchangeable hands

One (1) pair of fists (L&R)
One (1) pair of gun holding hands (L&R)
One (1) pair of holding hands (L&R)
One (1) pair of posing hands (L&R)
COSTUME:
Three-quarter sleeve t-shirt
Utility vest
Duty belt
Cargo pants
Leather-like overcoat
Tactical boots
ACCESSORIES:
Two (2) handguns
One (1) machine gun
One (1) knife (fits into sheath on vest)
One (1) blast gun effect
One (1) firing gun effect