The biggest, baddest villain in the Marvel Universe will be gracing the cover of Infinity Wars Prime #1. And he'll be in rare form, penciled by the legendary George Perez and Richard Isanove.
Infinite evil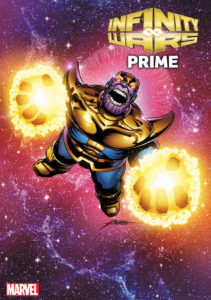 Marvel's biggest (that we know of) event of 2018 is Infinity Wars, and it's already making its presence felt. If you're not yet picking it up, Countdown is up to issue 3 and is getting more interesting with each installment. This past issue alone, we got Adam Warlock, Silver Surfer, Ultron, and a ton more heroes and villains.
But as cool as Countdown is looking right now, Infinity Wars is the actual main event. And it's likewise looking like something that fans should be very much looking forward to. Marvel has started teasing the book with some startling imagery. There was the Thanos Wins one, the Death Incarnate one, and the Death Wins one. And now we have the cover illustration for Infinity Wars Prime #1, set to bring things to a head. Of course, it's Thanos.
The Mad Titan is brought to life courtesy of Richard Isanove, and George Perez. Perez' name should immediately strike a chord with long time Marvellites, as he was the main sartist on the original Infinity Gauntlet. While he's not working on the interiors of this story, seeing his work grace the cover of the first issue is pretty nice.
As for who is doing those panel-to-panels, that'd be Gerry Duggan and Mike Deodato Jr. See everything ramps up when Infinity Wars Prime #1, hits the racks on July 25th.