While Infinity War is raging in theaters across the world, Marvel is about to launch into another "Infinity" themed comic crossover. Infinity Wars (with an 's') hits in the not too distant future, and the publisher has begun the hype machine with a pair of teaser images.
With an s
Yes folks, it's Infinity time once again. I feel like Marvel pulls the old gems/stones/whatever out of mothballs every few years for one of these, and I'm probably not too far off. This one actually makes good sense though, since the Marvel Cinematic Universe has just started its own Infinity War at theaters. So if ever it was to be used in the comics, now'd be that time.
As they go too, this one's off to a solid start. The Infinity Countdown series (two issues deep) is decent enough so far, with some intriguing hints at what's t0 come. So far we've seen Wolverine, The Guardians of the Galaxy, Adam Warlock, Ultron, and the Silver freaking Surfer. That's some cools stuff, even if the story itself isn't the most exciting (thus far anyway).
And now we're getting another tease. Well, a pair of teases actually, and they're pretty big ones. The first, is pretty straightforward too.
Thanos Wins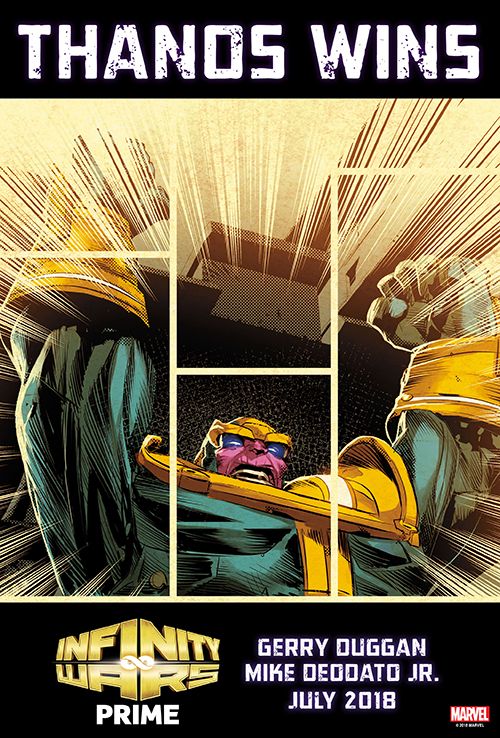 Coming this July.
INFINITY WARS PRIME #1
Written by GERRY DUGGAN
Art and Cover by MIKE DEODATO JR.
Colors by FRANK MARTIN
The second however, is a little more mysterious…
Death Incarnate in Infinity Wars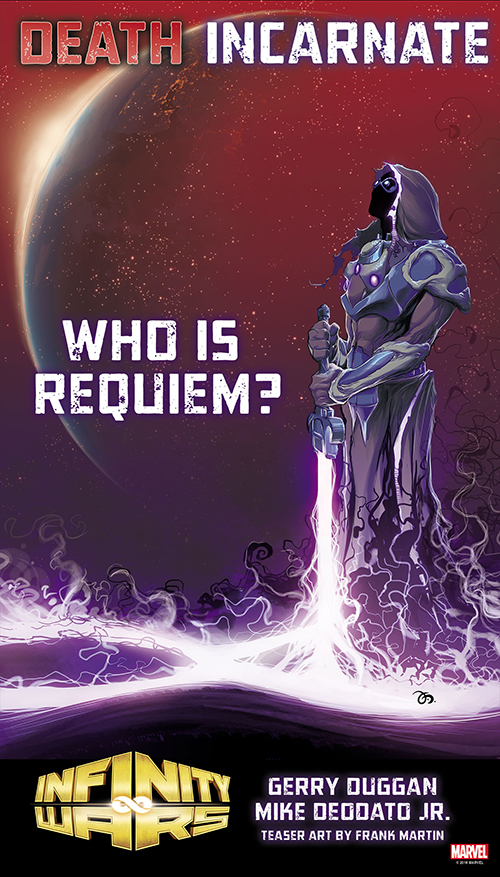 WHO IS REQUIEM?
INFINITY WARS
Written by GERRY DUGGAN
Art by MIKE DEODATO JR.
Colors by FRANK MARTIN