It's Batman Day, and what better way to celebrate than to get some cool new imagery from Mezco. Their One:12 Collective line is welcoming in the "modern" Batman with the Sovereign Knight figure, which we knew. What we didn't know it that we're also getting a surprise variant of Catwoman.
Happy Batman Day
First, let's have a quick word on Batman Day, and what it is exactly. It's a "fun" holiday that was created by DC Comics to celebrate the arrival of Batman in May 1939's issue of Detective Comics. Honestly, it's not a day that I've been paying to much attention to over the years, even though I'm a huge fan of the Dark Knight.
I was though, under the impression that Batman Day was celebrated in September. I know, that makes no sense, but I could have sworn it was. In any event, it certainly makes more sense to be thinking about the world's greatest detective today, since this was the month that he debuted.
And since we're celebrating today, we thought we'd share some pretty awesome news from a company that's near and dear to our action-figure-loving hearts here at BG – Mezco. The toy-maker's One:12 Collective line is one of the best out there at present and has just seen their Ascending Knight version of Batman release.
It's an "origin figure" that's set to be the first in a trilogy of toys from the company, followed by the Sovereign Knight. As you might imagine, that one will be a take on the current Batman, seen in DC Comics monthly. It's Bruce Wayne in his prime. And today we have a few more shots of what might be the One:12 figure of the year.
Batman: the Sovereign Knight is expected to ship out sometime this Holiday thought winter of 2019. You can pre-order him here.
But let's not forget the Cat
Since they're very much an item in the current DCU, it's only right to recognize Selina Kyle on Batman Day too. And Mezco has a surprise variant to show off, one that throws back to the classic 90s version of the sometime hero.
Decked out in a purple jumpsuit, this variant is otherwise the same figure that's on the way as a part of the standard One:12 lineup. That one is in black, and this one's in purple, which is the only difference. It's more of an homage than anything else, since that 90s version had an integrated mask, knee-high boots, and a tail.
Here's a look at the fresh variant though, which is pre-orderable right now and ships this fall.
He gave us… a signal
But there's even more to talk about today. Mezco has also shown their new Commissioner Gordon figure for the first time. There's no info yet on this one, but it looks incredible and has me wondering if that Bat-Signal will be included or if it'll be sold separately.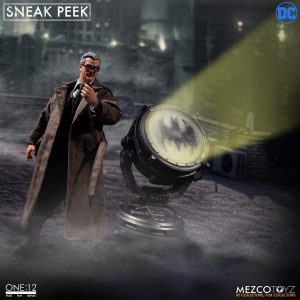 For that matter, it's also possible that Gordon will be a Con-exclusive. Again though, there's no word on any of this. The picture is just a tease of what's to come. Speaking of, there's one last teaser that Mezco has revealed today.
It's in the form of a YouTube video, and it's pretty surprising.
So what's the story here? Well, we know that Mezco had a One:12 movie Batmobile in the prototype stages. That vehicle would have been molded to look like the Batman v Superman car, though we haven't seen it in a some time. And we haven't heard what's happening with it since 2016 (I think?). So it could very well be that the company decided to scrap that version. They might have moved on to thinking about doing a comic edition instead.
That'd make all kinds of sense, since the movie didn't exactly set the world on fire. If I remember correctly, that movie version had lights and sounds too. So the car that you see in the video might actually have the effects that you see and hear. If it's in keeping with the previous version though, start saving now. That one was shaking out to be one expensive collectible and I can't imagine this'll be any different.
That's it from Mezco this Batman Day. All in all though, it was a great look at what's coming up both in the short term, and down the road. Stay tuned for more, as it's revealed.