You're not seeing things. Fresh from the Masters of the Universe/Thundercats crossover, DC Comics is actually pitting He-Man and crew against the rogue Superman of their alternate Injustice timeline.
Masterful
If you haven't read DC's Masters of the Universe limited series', then you should. The publisher put the books out a few years back, and reimagined the famed cartoon mythos as a more serious, and much darker fantasy series. As far as I know, that particular version of the fiction is over and done with, as it came to a pretty definite end. But that doesn't mean that DC is done with MOTU. Nope, not by a long shot.
Last year saw a crossover with Thundercats, that starred a more traditional version of He-Man. And it looks like that's the version that we're getting once again, as the Masters cross paths with the DC's superheroes. Not that this is the first time that that's happened.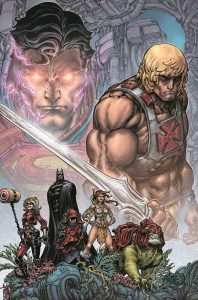 The Masters series' that I mentioned above actually kicked off with a DC crossover, where the main DCU League met the Eternians. That mini-series led into the full line of Masters of the Universe books. Actually, there was a crossover even older than that too. The 1980s saw Superman brought to Eternia to battle He-Man, under the thrall of Skeletor.
So the franchises have been paired before, is the point. Though to be fair, definitely not in this way.
Believing He-Man and the Masters of the Universe defeated, a robotic impostor has seized control of Eternia—but not for long! After freeing his kingdom from this strongman's rule, He-Man learns not everyone is pleased to see the pretender deposed—but Adam knows the value of freedom. When heroes from another dimension ask his aid in deposing a superhero turned dictator, he agrees. Teaming up with Batman against the Superman of the Injustice Universe, He-Man and his new allies face dangerous and familiar enemies in a battle where no world is safe!
Officially titled Injustice vs. He-Man and The Masters of the Universe, the book is scheduled to run as a six issue mini-series. Helming the series will be writer Tim Seeley and artist Freddie E. Williams II. Seeley you no doubt know if you're a DC fan, since he's worked on a pile of superhero books, like Nightwing, Green Lanterns, and more. And if you read the MOTU/Thundercats crossover, then you know Williams. He provided the interior art for that one as well, so there's a nice sense of continuity there.
Injustice vs. He-Man and The Masters of the Universe #1 hits stands and digital storefronts on July 18th.
Additional reading
Worth mentioning again too, is that the already existing Masters of the Universe books from DC are pretty great. That's particularly true if you're looking for a more serious take on MOTU. There are a few graphic novel collections (and single issues of course) out there, if you feel like giving it a shot.
On top of that, don't forget that Injustice isn't just a series of fighting games. It's had a multi-year run as a comic from DC that's actually gotten plenty of acclaim. That book really dug into the mythos created at NetherRealm Studios, fleshing it out. Its DCU is a twisted version of the one that fans know so well. Likewise, there are multiple collected editions available, if you so desire to get some reading in.