Solo has been a little odd for a Star Wars movie launch, and the release of the toys seems to be following suit. Nevertheless, they're out there now, even though Force Friday was a no-show.
Captain of the Millennium Falcon
Well I guess he's not captain yet in this film, but we all know he will be. Though this fresh Star Wars movie has seemingly been on a track as rocky as Han Solo's worst flight. Through development, there've been rumors about issues on the set, the directorial team was canned and replaced by Ron Howard, and some fans haven't been all that sold on actor Alden Ehrenreich's ability to mimic Harrison Ford.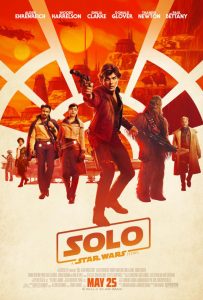 Regardless of all that though, the latest trailer looks pretty good, and the movie is on track for release next month. Oh, and the tidal wave of merchandise has hit stores; not that you'd know it. That's because there was no Force Friday this year.
Force Friday, or last thereof
If you're somehow unaware, Force Friday is a now (pretty much) yearly "event" that sees new Star Wars toys hit stores en masse. It's usually timed to the latest movie release, and this year that would mean Solo. Well, we kind of got an FF, but we kind of didn't. Friday the 13th (which was last Friday) saw the launch of a bunch of Solo goods. Here's the thing though, it didn't have the name "Force Friday" name attached.
As near as I can tell, there wasn't a reason for this either, though it's very notable that there was no Toys R Us this year. And that means that there was no store to hold a midnight opening this time around. That was a happening that took place last fall, when The Last Jedi's action figures landed at retail. The likes of Target and Walmart didn't bother with the late-night party. And since TRU is in the process of closing all stores, there was nothing happening this year at all.
But that doesn't mean that there are no action figures, vehicles, and whatever else. There's actually plenty of it, including some excellent new Black Series figures, and a couple of cool speeders. Of course, there are a pile of Pop!s too, but you knew that already.
If you can't find 'em at retail, which there's an apparently high chance of (*personal experience*), you can definitely order 'em all up online. Our buddies over at Entertainment Earth have most of what's out there in stock, so click here if that's your bag.
As to the future of Force Friday, that's up in the air. Hasbro hasn't said anything one way or the other, so we might be seeing it fade away. Or perhaps, we could be seeing a situation where "saga" movies like The Last Jedi get FF's, but standalone films like Solo don't. We'll see. And if there's anything announced, we'll let you know.