It's been a while since Toy Fair, but we're still running coverage! With cool stuff like DC Collectibles' offerings still to show you, how could we not?
DC always has a nice selection of stuff on hand for Comic Con and Toy Fair. This past showcase was packed, but seemed a little more streamlined than usual. There's a reason for that. The company's Batman: The Animated Series line is running low on characters, and DC Icons has officially bit the dust.
I'm kind of sad about the latter there. Batman has produced a marquee line, so there's no sorrow involved in seeing it folded into a more select series of figures. And that's just what we're getting, but more on that in a minute. Icons though, Icons getting canceled hurts a little.
The line ran into trouble right off the bat, as it was more in the "true" 6″ scale, something that most collectors weren't really looking for. Personally I loved Icons, and I had no problem with the scale. Somehow DC was able to make every figure seem special, and they also produced some excellent accessories to accompany them.
In its place, we're getting something that's very similar, but a bit different. So let's kick things off right there, with DC Essentials.
DC Essentials
DC Collectibles' new action figure line is called Essentials and it harkens back to the age of the 7-incher. And yes, I know that wasn't all that long ago, but it was before the Icons line.
DC had been a pioneer in that arena too, making 7″ scale figures since the late 90s. They had some excellent waves of them too, with some even centering on major comics arcs like Blackest Night and Crisis.
And now, we're back to the scale that worked best for the company. Things aren't just continuing though, because DC is kind of rebooting the series. And it all re-starts with a dose of the DCU's heaviest hitters.
Note, that these are not two packs. They have been planned out as sets of heroes and villains, but these will be single carded figures when they arrive at retail later this year.
While the staple characters are single packed though, the Watchmen figures will not be. Paired as double packs, these figures will be in scale with the above. Playing off of Doomsday Clock, the Watchmen figures are made to be displayed right alongside the DCU heroes.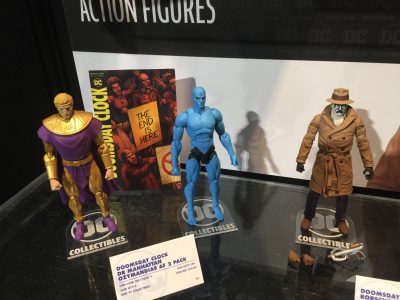 And while there wasn't much Animated stuff in the booth, there were the expression packs, which I hadn't seen till now. Batman, Joker, and Harley Quinn all have packs either out there right now or on the way, and they all look pretty neat.
They are an excellent way to add a little flavor to a display, and instantly become the "ultimate" versions of the individual characters. I don't have a B:TAS Joker in my collection, and I'm definitely targeting that Expression Pack version. What's not to like?
PVC Statues
Much like with Diamond Select Toys, DC Collectibles has prepared a selection of low-cost statues. These are PVC in material, so they're not overly heavy pieces, but they're pretty freaking awesome regardless.
Running about $50USD  too, it's easy to imagine adding a few to the old book shelf.
Props and Busts
You've seen the DC Collectibles Joker bust at this point. Designed by Rick Baker, this thing is freaky in all the best possible ways. And if you're a big Joker (or Batman) fan, then it's something that you're -at the very least- going to be tempted by. It's not cheap though, as this super-limited piece is just shy of a cool thousand bucks.
Not quite as expensive though, are a pair of props. The first is the second Two-Face coin produced by the company. The original was released way back in the 90s, and didn't have the heft that this one does. It's nice and weighty, and pretty easy to flip too, if you're so inclined.
Also on hand was the Joker cane. Tipped with a sculpted-metal handle, the cane is sized like a real one would be, and would make a terrific addition to your own Batcave or Joker cosplay.
Statues and more statues
As for the rest of what was in the booth, well it was statues, statues, and more statues. DC Collectibles' bread and butter for a long time now, the company's statue line is alive and kicking.
We already showed you the PVC stuff, but there was some nice high-end statuary on hand too, as well as some smaller pieces. Notable in its absence however, was any trace of Batman: Black and White.
It seems as though DC is starting to mix things up a bit with the smaller scale Batman statues instead. In the booth were both B&W and full color mini-statues, including a very impressive pair of Batman and Joker pieces from The Killing Joke. The Brian Bolland Bats in particular is a tough one to resist.
Check 'em all out below.