It's Kirby week on the Nintendo Download as the little pink puffball's latest game arrives on the Switch. Actually, it could be Mario week as well since there are plenty of Super happenings as well.
Allies
Mario and Kirby would probably be allies, don't you think? I mean, Kirby is a little disturbing with all the eating of enemies, though Mario really can't say anything since he clearly condones Yoshi's predatory nature. So with that in mind Mario would probably fit right in with Kirby's newest adventure, Star Allies.
Alas though, the plumber isn't present for this one, instead we get a co-op centric title that sees gamers taking on the role of Kirby himself, and three of his enemies. Yep, Kirby actually makes friends in this one.
Also this week, there is a ton of Mario stuff happening. There are no new titles to play, but the Super one has made the jump into Google Maps, and can kart you through your turn-by-turn directions. Additionally, there are some new Super Mario rewards you can grab, and eShop discounts on a huge chunk of his gaming catalog. Good stuff if you're a fan who's skipped a few of these.
Here's what's new:
Nintendo eShop on Nintendo Switch
Kirby Star Allies – When a new evil threatens Planet Popstar, Kirby will need a little help from his … enemies?! By making friends out of Kirby's foes, up to three players can drop in or out of the adventure at any time. With new and expanded copy abilities, classic Kirby action is deeper than ever. Combine abilities with elements such as ice or fire to create new friend abilities. The Kirby Star Allies game will be available on

March 16

. (Additional accessories may be required for multiplayer mode. Game, system, and some accessories sold separately.)
Attack on Titan 2 – Experience the immense anime story alongside Eren and his companions as they fight to save humanity from the threat of the deadly human-devouring Titans. Try your hand at operating the omni-directional mobility gear, maneuvering and flying through the sky to counter the Titans, and feel the thrill and satisfaction of battling giant opponents. The Attack on Titan 2 game will be available on

March 20

.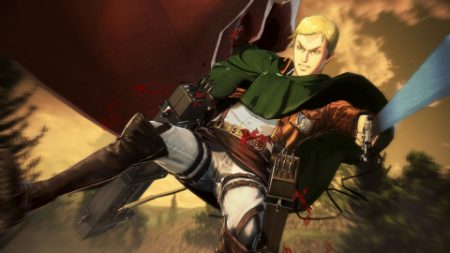 New DLC:
Splatoon 2: Octo Expansion – INKoming DLC! Play as an Octoling for the very first time in this large-scale downloadable content for the Splatoon 2 game. This full-on single-player adventure launches this summer and spans 80 missions starring Agent 8, a new character who awakens on a dark subway platform. Navigate this mysterious underground test facility in a desperate battle to reach the surface of Inkopolis. Escape from these twisted depths, and you'll finally be able to join multiplayer matches as an Octoling! You may think you know everything about the world of Splatoon, but these waters run deep, and so does the lore. Octo Expansion launches this summer, but players can purchase this content in advance today for $19.99 for immediate access to special octo-themed in-game gear. (The full game is required to use the DLC. Additional games and systems required for multiplayer mode.)
Nintendo eShop sales:
Nintendo eShop on Nintendo Switch, Nintendo 3DS and Wii U
Activities:
Mario Jumps to Google Maps – We've collaborated with the team at Google to let Mario accompany you on all your driving adventures with Google Maps. Just remember to practice safe driving on the road – we don't encourage throwing bananas or red shells at other drivers in real life. Navigate with Mario in Google Maps and share your #MarioMaps experience with us. Check out the limited-time event before it ends

March 17 at 9 p.m. PT

.
My Nintendo March Rewards – My Nintendo is celebrating March with Mario-themed rewards! Redeem your points and get these rewards:

You can redeem your points to get discounts on these great games and keep the MAR10 Day celebration going all month long:
Also new this week: