It's a big year for Pacific Rim, as a second movie is on the way to theaters. But that's not all, as there's a limited comic series currently running, and it's about to land issue three at retail.
Kaiju!
Santa Monica, 2034. In a city that was once the jewel of the west coast, a new world has emerged: one rising up from the ashes of giant robots and giant monsters. As tensions rise in this aftermath city, disgraced pilot Griffin has an explosive reunion in a Jaeger scrapyard; a dangerous figure from the past encounters the mysterious Sisters of the Kaiju; and Jake Pentecost takes one step closer to unlocking the key to his father's past.

The six-part series is a gritty action adventure that explores a new criminal underworld born in an age of monsters and mechs and is an unmissable story for all PACIFIC RIM fans.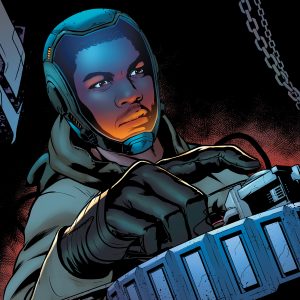 That's the synopsis for Pacific Rim: Aftermath, the official comic book prequel to the upcoming movie sequel. The book isn't too far along either, so for Pacific Rim fans looking to catch up, well you don't have much of it to do.
The series is set to run a total of six issues, and started up right at the top of this year. That means part three is scheduled to arrive on stands later this month. Also kind of neat is that it's one of the first offerings (I think) from Legendary itself. That's right, the movie house behind the films is doing the publishing.
They're getting things off on a good note too, as this one has a very nice creative squad behind it. Writing is Cavan Scott, who you probably know best from Star Wars: Adventures. The artist is Richard Elson, who's worked on stuff like Amazing Spiderman: Dying Wish and Wolverine: Savage. Pretty big names there.
Speaking of, this book also benefits from a collaboration with Pacific Rim writer and director Steven S. DeKnight, as well as star (and producer) John Boyega. So if you're a fan, this is one that you probably don't want to skip out on.
As for the big screen flick, Pacific Rim Uprising lands pretty darn soon too. Expect it on March 23rd.