Playmates Toys showed off their new Rise of the Teenage Mutant Ninja Turtles line at Toy Fair this week. And as much of an acquired taste as these new designs might be, there's no denying they're resulting in some cool toys.
Revamp
Look there's no point in ignoring the elephant in the room – this is pretty easily the most divisive reiteration of the TMNT ever.
The original show was a classic that made the Mirage-published comics safe for all ages.  It was also tons of fun, and birthed Ninja Turtle classics like Rocksteady, Bebop, and an endless supply of others.
Since then, there've been two reboots to the venerable franchise, with the second being a runaway hit. Just concluding last year, Nickelodeon's updating of the Turtles was just enough to woo back original fans and make tons of new ones.
It was endlessly appealing, with fresh takes on Krang (who became a whole alien race) and adaptations of classic comics arcs. As a longtime fan myself, I enjoyed the heck out of it.
This new reinvention though, again coming just a year after the last one closed out, just isn't doing it for me. And there are a few reasons for that, none of which we're going to get into here.
Why? Because this isn't an article about the show, it's about the toys that Playmates showed off at Toy Fair in NYC. And honestly, as much as you might dislike what the show will be doing, these are some really neat toys.
The fab four
Starting us off, let's have a look at the basic assortment. That will include the Turtles themselves, as well as the new Splinter and April. In all, there'll be three villains in the first wave, with a Foot Soldier (yes, they're in there), Foot Lieutenant (not shown) and Meat Sweats. Meat Sweats is the pig-man. He "sweats" meat…
These are the basic figures, meaning they don't have any sort of "action" features, and come with what you'd expect. Leo comes with katanas, Donny comes with his bo staff, Mikey has his… triple… nunchuck (?), and team leader (yes, really) Raphael has his staple tonfas. Yep. His staple tonfas that he's always used.
Anyway…
The next set of toys are of the action feature variety. These Deluxe Ninja figures actually go airborne. Each Turtle flips in a different direction, and it's honestly a cool effect. These actually work folks, and impressively so.
And finally, there's a large scale assortment planned too. Right now, this will include the four Turtles only, though I imagine more characters will be added to the scale if the format proves popular.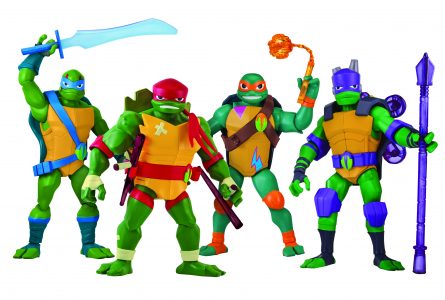 Vehicles and playset(s)
As you might imagine there are a few vehicles accompanying this initial wave of figures. And they're pretty cool too. Two versions of the Shell Hogs are going to be hitting stores, with the ability to link up with each other, or connect to the Turtle Tank.
The Turtle Tank apparently serves as the Party Wagon for the new team, and looks really neat. It has an armored visage, as you might imagine, and features a pop-up turret.
That turret, by the way, detaches and connects to the new Turtle Lair. So everything has a kind of interconnectability. Pretty cool stuff. The lair is amazing to see in person too. It is absolutely massive and feels substantial. This isn't a cheap set.
It gets even bigger when stacked (!) on top of the lost city playset. If you're wondering what that is, it's exactly what it sounds like. This version of the Turtles has a mystical component, and the lost city that the lair sits on top of features heavily into that.
Shown below is just the lair.
There's also a series of role-playing sets that will be hitting stores, but the above more or less rounds out the line for the year. Playmates did tell me that there's more stuff coming, including additional waves of basic figures. Release dates though, were not forthcoming.
Interestingly enough, there wasn't a glimpse of Shredder in action figure form. I haven't seen him even hinted at in conjunction with the new show, though I have to believe he'll be in there somewhere. There are Foot Soldiers after all. So stay tuned I guess.