It's not all that big of a "reveal" when you consider what we know about this movie, that being next to nothing. Still, seeing those eyes on this Venom poster is cause for hope.
Sinister symbiotes
Venom debuts this fall, and we still know very little about what the Tom Hardy-starring movie will offer. We do know that the plot will be something that mashes together the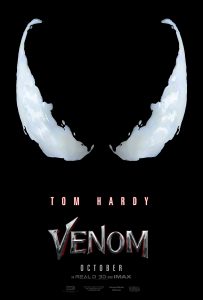 Lethal Protector and Planet of the Symbiotes story arcs. Also announced, is that Hardy is playing Eddie Brock, the original host of the symbiotic suit, and one of Spider-Man's most popular nemesis'. That's where the facts end though.
Past that, there are rumors. Those being that Carnage will be the main villain, and that Tom Holland's Peter Parker (not Spider-Man) will appear in some capacity. All of that could be very cool indeed, but everything I just mentioned leaves one very important thing out – what this Venom will actually look like.
Well, today we have a little hint. With the official movie poster getting revealed by Sony, we have a glimpse of some very familiar eyes. Add to that that there's a "We are Venom" tag line floating around, and we might be seeing a very faithful Venom/Eddie. Well, in terms of visuals anyway.
Either way, I imagine that we'll see plenty more on this one as we tumble ever-closer to the film's release date. With that in mind, I'd say July's SDCC just might have plenty for fans to sink their teeth into.
Look for Venom to hit theaters on October the 5th.