Toast makes some of the coolest console covers out there, etching them out of actual wood. And shock and surprise, the Switch looks pretty awesome all spiffed up in one of their decal sets.
Toast-y
This is the second time that we've taken a look at a Toast console cover here at BG. The first was an Xbox One set, that we reviewed last year. While the Switch one isn't too different in theory, there are some pretty big things that set it aside when you get down to the application. For that matter, the finished look too.
Before we get to that though, let's talk about what Toast actually offers. The company makes console covers, which is nothing new. Here's the rub though – these covers are all made of actual (very thinly cut) wood.
Toast says that, although their covers come from lumber, they take conservation seriously. These are incredibly thin, so I'd actually imagine that more than a few covers could come from just one tree. The Portland, Oregon company takes things a little further though, and plants one tree for every cover that they produce.
They also take craftsmanship just as seriously. Toast laser cuts each set of panels before finishing them by hand, and they guarantee satisfaction. That's always a good thing to see, since they not only make "basic" panels, but also will do custom designs for their customers.
Application
Let's get back to specifics though, and in this case that means the Nintendo Switch set we're looking at. For starters, this isn't just the console that you can cover with these Toasty panels. I had added them to my Xbox One, as I mentioned, but this is a lot more involved than that.
Not that it's overly difficult, it's not, but it's not as quick as an Xbox (or PS4) assembly. That's just because there are more parts to it. Not that there has to be however. Apparently you can choose between getting the works, or just the dock when it comes to the Switch. That's something that isn't offered for any other console. And it makes good sense.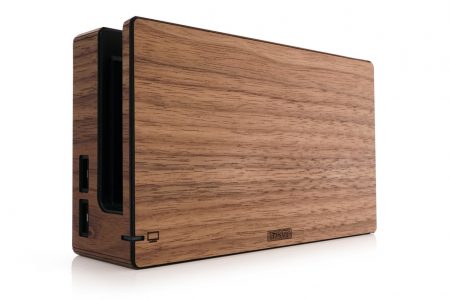 The Switch allegedly has an issue with console sticker applications. And by that I mean it doesn't like them at all. Apparently, when you take the label off, the Switch's plastic gets this weird micro-pockmarking that you don't find in any other console. It's odd, but those are the facts.
Now, I should mention that Toast says its console panels have a stickem on them that doesn't leave behind a residue. I don't know if that means that the Switch won't be affected though. I'd actually just assume that it would be just as bothered by Toast's offerings as any other. So it's up to you.
Toast sent me the whole shootin' match though, so that's what we're discussing.
If you're looking at just the dock, then you can disregard that part of this review. Getting back to the application, again I have to say again this isn't rocket science.
The actually application on the dock is super-easy, with only one panel to stick on the front, two side-panels, and two thin strips for the top. The end result is a really nice look that you can't get with anything else. And quite frankly, it looks awesome next to the TV.
The actual console is almost as easy. Two panels make up this set, and they're both simple to apply. Not that they're without issue. There are a lot of ports on the Switch after all, and I don't mean old games. So it can be a little tricky to apply the panels correctly. This is minor though, and easily remedied by just taking your time.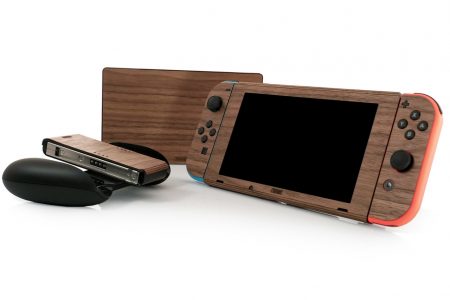 Oh, and you don't want to have a screen protector on your console, because it won't work if it has any kind of depth to it. I have a tempered glass shield on the front of mine, and it's just not having it. So be aware of that. The joy-cons though, are no problem. For them, there are a simple two panels. One each, and you just stick 'em on the fronts. Super easy. There's also one for the plastic mount that you can slap the joy-cons onto. It finishes the look off beautifully.
The complete product is a great re-deco of the system and its dock. It feels plenty sturdy as well, and it doesn't really look like it'l be falling off any time soon. I mainly mean the controller panels there by the way. I have had my Xbox One decked out in these for a while now, have moved it three times, and have had zero issues. So, for what it's worth, Toast seems to be a nice sturdy product line.
And if you're looking for something to freshen up your Switch's look, this could be it. These panels are easily much more "adult" looking than the assortment of other labels out there, and will seriously dress your Switch for success.
Toast Nintendo Switch console cover
Release date: Available now
Price: $39.00 (without custom text)
Got you covered
Excellent look - 98%
Couldn't be much easier to apply - 95%
Stays in place - 95%
Will the Switch be left a bumpy mess if you ever take it off? - 70%
I love this little console cover set. The Switch isn't a bad looking console by any means, but having a wood-paneled cover on it dresses it up gorgeously. It couldn't be much easier to apply, fits beautifully, and seems pretty rugged. The only down side might be the Switch's apprehension to wearing a cover of any kind. But if you don't take it off, well it's not really a problem is it?