Starcraft fans have something to look forward to this year, as Dark Horse readies a mini-series based on the beloved strategy game series.
Real-time reading
Yes, Dark Horse and Blizzard are teaming up once again, and it's not for an art book. They've already got plenty of those. What isn't as well known is that the companies have teamed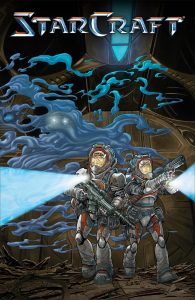 to produce  straight-up comics too. Blizzard properties like World of Warcraft have actually seen a few volumes at this point. This new Starcraft series is the latest in the line.
It looks like a pretty solid entry too, with the Protoss and Terrans taking the spotlight. It's not mentioned whether or not the Zerg are included in this tale, though it does take place on a Protoss "derelict". So there's always a chance, is what I'm saying. After all, the ship must've been abandoned for some reason, right?
In StarCraft: Scavengers, a group of terrans hopes to pull off the job of their lifetimes: pillaging a derelict protoss ship in a decaying orbit above an uninhabited planet. The scavengers' dangerous mission is seen from the point of view of a young, inexperienced engineer. The team must scavenge the ship's priceless tech before it burns up in the planet's atmosphere, but can they beat the clock and avoid being busted by Dominion police forces?
The book will feature art from Gabriel Guzman and a script by Jodi Houser. Look for it to kick off on July 25th with issue #1.