Paul Oakenfold brings the story of his success to the visual world with The Wonderful World of Perfecto. Follow along with what is sure to be an entertaining tale of ups and downs.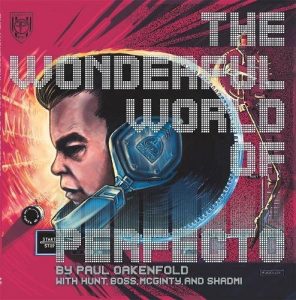 The Wonderful World of Perfecto
You may have heard of Paul Oakenfold before. His rise to fame really began to take hold in the late 80's and early 90's. Chances are, you've heard his work before and had no clue it was him.
Launching with roommates arguing over what is in the refrigerator, the story sets Paul up as a quality child that makes the effort to stay connected with his family. During a birthday party he was introduced to the style of music that would forever change his life. Or so the story goes. His life is broken out into four chapters, each with a distinctly different artist and style. From a small cadre of friends hanging out in garages, to the elite mixing it up during back-stage soirees.
What A World
There are plenty of highlights in this fanciful story, such as working with the likes of Madonna and Hunter S. Thompson. If you can imagine what sort of world would include these two polarizing figures. Madonna is down to earth, though in true fashion, Hunter is a monster of a man. You'll have to pick up a copy for yourself to see what genres he should fall into.
Now, the book does not stand to win any awards, as the story and the style are fairly straight-forward. Though the work among friends shows that there was plenty of enjoyment, endured in the making of such a tale.
The Wonderful World of Perfecto is available now.
The Wonderful World of Perfecto
Writer: Paul Oakenfold
Artists: Chris Hunt, Tyler Boss, Ian McGinty, Koren Shadmi
Coloring: Kizzy Whitfield, Rahsad Doucet, Fred Stresing
Lettering: Fred Stresing
Cover: Darren Le Gallo, Chandler Wood (AKA Wooden Leg)
Magical and Mystical
Plot - 70%
Writing - 74%
Art - 85%
While the story shows that not even Oakenfold has had a charmed life, it does seem as if he's had more opportunities than the average bear. That being said, it's quite a trip.