Most all collectibles based on Street Fighter's Ken are in the SFV style these days. But not so over at PopCultureShock.
Sho-ryu-ken!
There are a few characters in the Street Fighter series that you could easily consider icons of the genre. But even so, Ken Masters stands out among them. And now there's a classic statue based on him from PCS.
Standing in stark contrast to pretty much all the modern action figures of the red-clad fighter, this statue is decidedly old-school. Ken is dressed in his classic costume, flashing his staple thumbs up.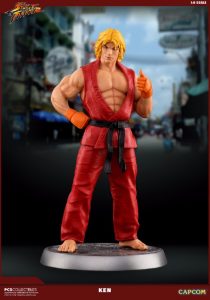 Priced in at $99 USD, Ken is actually pretty reasonable too, since he stands in at 9.8″ tall. That tag is even more astounding when you consider that this is PCS that we're talking about. They usually produce pieces that are both massive in size and price. So this new, smaller form-factor is a welcome addition to the catalog.
Personally, I don't mind spending a decent amount on a statue from a property that I'm a monster fan of, but having the choice of picking up a less expensive one sure does make collecting a whole line a heck of a lot easier.
Even better, if you pre-order Ken now and pay him off all at once, you'll save a cool 10% off the ticket price. Of course, the season being what it is, you might prefer the payment options that PCS has offered up.
If that's the case, you don't get the discount, but you do get the plus of paying him off bit by bit till his release date, which is set for summer of 2018. Just keep in mind that, either way, there's a $20 USD deposit that's non-refundable should you cancel.