The gift that keeps on giving – the Xbox Games with Gold for December are here and the games look great. Just in time for the holiday season, Xbox Gold Members will be receiving Warhammer: End Times – Vermintide and Back to the Future on the Xbox One. For the Xbox 360, gamers will be receiving Child of Eden and Marlow Briggs and the Mask of Death.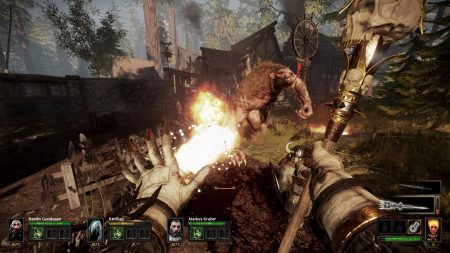 Fight The Skaven In Warhammer And Get Down In Child Of Eden From Games With Gold
Starting on December 1st, Xbox players will be able to download Warhammer: End Times – Vermintide on the Xbox One and Child of Eden for the Xbox 360 via the backward compatibility program. From the studio Fatshark, comes a FPS set in the world of Warhammer. The world is ending and hordes of the Skaven (rat creatures) are running wild throughout the land. It is up to you, and three friends, to stop the giant rat infestation. Make sure to pick this fun adventure starting on December 1st.
From Ubisoft comes the musical adventure, Child of Eden. This rhythm action game was an interesting game when it released back in 2011. Now it comes back for a bigger audience on the Xbox One starting on December 1st.
Take Another Trip Through Time With Doc Brown And Marty
Starting on December 16th, a new Back to the Future adventure from TellTale Games adventure starting Doc Brown and Marty McFly will be available. Six months after the events of Back to the Future 3, the DeLorean mysteriously shows up with nobody in the car. What is Marty to do? Help him unlock the mystery starting on December 16th.
The last game for December will be an interesting game, Marlow Briggs and the Mask of Death. From 505 Games, comes the story of Marlow Briggs, this hack and slash adventure will share Marlow's story as he trying to takedown the evil group, FREEDOM. Help Marlow starting on December 16th.