Capcom's new Puzzle Fighter is almost here for iOS and Android gamers.
Puzzling combat
One off the more interesting fighting game spinoffs from the '90s, Puzzle Fighter still holds a special place int h hearts of many a fight fan. The Capcom published title pitted Street Fighter characters against each other in a puzzle game. When you hit combos in the puzzle game, the characters on the sides of the screen would pull off special moves on their opponent.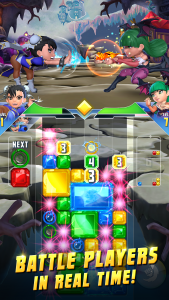 It was a kind of indirect fighting game experience, and it was boat-loads of fun. Since then, we haven't seen much go the IP though. That drought came to an end a few months back with the announcement of a new version of the game, this time for mobile handsets.
This is no reprint though, as Capcom is promising all -new enhancements for the series' reboot, including a "new look and new features, leaderboard support, guest account support, Color Blind Mode option (a series' first) and more".
Puzzle Fighter features an outstanding roster of legendary characters and stages from popular Capcom franchises. Fan-favorites such as Ryu, Ken or Chun-Li (Street Fighter), X (Mega Man), Morrigan (Darkstalkers), Frank West (Dead Rising) and more come to life with VO and cinematic special moves. Players pick one main character each with their own strengths and benefits, to face-off in explosive gem-crushing action. In addition, two support characters can be chosen to further enhance or balance the abilities of the main character. Simple to learn but deep in strategy, this highly addictive puzzle game has players strategically building up gems and destroying them to unleash epic combos that can knock out their opponent. Thrilling real-time versus battles, rewarding single player options and an array of content to unlock await in this ultimate puzzle fight!
Ready to brawl? Watch for Puzzle Fighter to arrive on iOS and Android devices "later this week".