Star Wars Battlefront II has had a bit of a… rough launch. That's a fact that's evident given the launch of the EA title in the UK.
Retail Battlefront
Debuting at number 2 on the retail charts at this time of year isn't exactly a bad thing. After all, there are tons of games arriving in stores at Holiday time, and to able to beat out a good number of them and grab the second-best sales spot, well it's pretty good. But if you're a Star Wars game, it suddenly becomes not quite as good as it otherwise would have been.
That's the case here as we're talking about none other than the embattled Star Wars Battlefront II. EA's latest Star Wars game, Battlefront II is the followup to the rebooted original that hit almost exactly two years ago. While that game was also picked at quite a bit by fans/gamers, it was an undeniable hit, and had some serious legs too. If you're somehow not aware, it had an extensive amount of post-launch dlc support. Battlefront even saw  major refresh last Holiday with Rogue One-branded content.
Enter Battlefront II, which hit last week, and it's a bit of a different story.
While BFII added in the campaign that many fans were pining for, it did something that no fan asked for – loot boxes. EA and developer DICE threw loot boxes into the equation, allowing gamers to use real-world cash to pay for in-game goodies way before they otherwise could unlock them.
That might not sound like a big deal to you if you haven't been following the story, but it kind of is. That's because you'd have to play for 40+ hours to get some of the stuff that the loot boxes offered. And even then, you're talking about the stuff for just one character. Yeah, that's a lot of grinding. And it's not fun for a fan that just wants to jump in, play a few rounds, and jump out.
Long story short, EA removed the micro-transactions. So now, you can only grind to get the stuff you want, you can't pay for it. It's not going to stay that way though, as EA has also said that the boxes will be back, in some form. Is that a good solution? I don't really think so, but that's up to you and the gaming public at large to decide. Though, from the looks of it, it might have been figured already.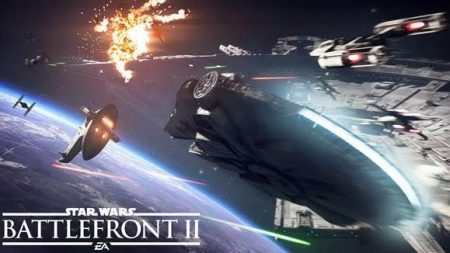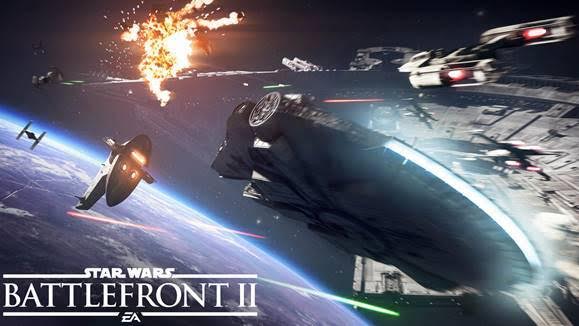 A second-rate debut
So with the game out and at retail, where does it sit? While figures for the US (and global market) haven't been released, we know where BFII landed in the UK. That'd be number 2.
Debuting behind the also recently released Call of Duty: WWII, Battlefront II failed to knock the resurgent CoD from its three-week perch at the top spot. Again, that might not seem like a big deal to you since WWII has been the blockbuster that Activision had hoped it'd be, but you have to take into consideration the series' previous performance.
According to industry site MCV, the original Battlefront scored big with Brits. Battlefront (1) had the biggest launch ever for a Star Wars title in the country, "selling more than 117 per cent more units in its first week than previous record holder, 2008's Star Wars: The Force Unleashed."
Even with all the hubbub about it not having a single player mode, the original was that big. And with Battlefront II not even managing to knock a three-week old title out of the top spot, you can see how any impressiveness from debiting at no.2 fades pretty fast.
I still think that the game looks pretty good though, and that's as a gamer and a Star Wars fan.
The campaign seems cool, and does some unique things for a Star Wars title. Playing as the Empire isn't seen all that often in Star Wars video gaming after all. And the multiplayer? Well honestly it's still looking pretty slick too, though I totally get the frustrations.
I imagine that if DICE had re-worked things to make the "grinding" a little easier, and had things flow a little more organically, we wouldn't really be having this conversation right now. Of course, that's also pretty unlikely to happen now, since the horse is out of the barn at this point.
EA has come out with its "solution" to gamer's anger, and as you can see it's not all that great. It's gonna be interesting to see what happens with this one over the rest of the Holiday season, and in the US especially. Could be a very bumpy road.
Might that result in a better Battlefront III? Or could it spell the (unlikely) end of the reborn series? Stay tuned.
Source: MCV