It's a great week for statue fans with Star-Lord, Iron Man, and Nightwing pieces hitting from DST. Oh yeah, and maybe the coolest Nightmare Before Christmas figure yet.
Something for Marvel and DC fans both
So first, I'm digging that Iron Man. Clad in his classic armor, Tony Stark is looking awesome as the latest addition to the Premier Collection line from Diamond Select Toys. If you're a fan of the most iconic versions of him, then I think you'd be hard-pressed to not like this one a lot.
On the flip side is the Star-Lord Gallery statue. This is based on the Marvel films version of Peter Quill, and it's pretty terrific too. And while he's not a movie version, the Nightwing statue from The New Batman Adventures is looking great as well.
And then, there's Zero.
DST has quietly been making some of the best Nightmare Before Christmas figures ever, and Zero kind of takes the cake. This figure comes with an impressive cemetery display stand that should make for a suitable centerpiece to any NBX collection.
I don't even collect these figures, and I want Zero. He's just so neat.
Here's what's in stores now:
DC Gallery Batman New Adventures Nightwing PVC Diorama
A Diamond Select Toys release! Robin sets off on a new adventure! As seen in the follow-up to Batman: The Animated Series, titled The New Batman Adventures, Dick Grayson has grown up and changed his look, becoming Nightwing! This PVC Diorama depicts Nightwing crouched atop a pillar, preparing to pounce on an unsuspecting thug. This approximately 12-inch PVC diorama features detailed sculpting and exacting paint applications, and comes packaged in a full-color window box. In scale to all Gallery and Femme Fatales PVC figures. Sculpted by Varner Studios! (Item #MAY172499, SRP: $45.00)
Nightmare Before Christmas Deluxe Collection Zero Figure
A Diamond Select Toys Release! The deluxe Nightmare Before Christmas doll line continues with a new accessory character! This PVC figure of Zero the Ghost Dog is in scale to the previously released Jack, Sally, Finkelstein, the Mayor and Santa Claus, and look like they came straight from the movie! Based on classic Japanese imports, Zero floats approximately 10 inches high, above a doghouse diorama atop a clear support stand. He comes packaged in a full-color window box. (Item #APR172632, SRP: $49.99)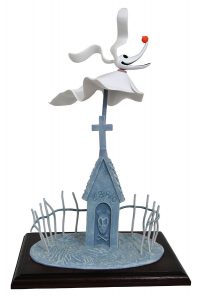 Marvel Gallery Guardians of the Galaxy Vol. 2 Movie Star-Lord PVC Diorama
A Diamond Select Toys release! The Marvel Gallery line is blasting off into outer space! This new PVC dioramas captures the space-faring leader of the Guardians of the Galaxy as he appears in Vol. 2, one of the latest blockbuster entries in the Marvel Cinematic Universe. With his jet-pack, Star-Lord measures approximately 11 inches tall, with highly detailed sculpting and paint applications. He comes packaged in a full-color window box. Gamora with Rocket available now. Drax with Groot coming soon! Sculpted by Rocco Tartamella! (Item #MAY172526, SRP: $45.00)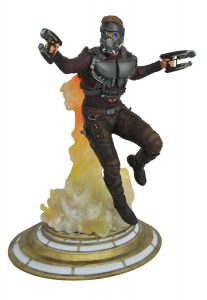 Marvel Premier Collection Classic Iron Man Resin Statue
A Diamond Select Toys release! We are go for launch! The Marvel Premier Collection line of statues continues with the armored Avenger, Iron Man! Wearing his classic suit of red-and-gold armor, this resin statue shows Iron Man posed atop a pile of crumbling debris, facing down an unseen foe or foes with repulsors at the ready. Figure stands approximately 13.75" tall including his base, and features detailed sculpting and paint work. Limited to only 3,000 pieces, it comes packaged in a full-color box with a certificate of authenticity. Sculpted by Clayburn Moore! (Item #FEB172611, SRP: $150.00)