Funko has yet another form-factor primed to take off in the collector figure market. It's 5.5″, looks an awful lot like the classic Masters of the Universe toys, and bears the license of MKX.
Finish him!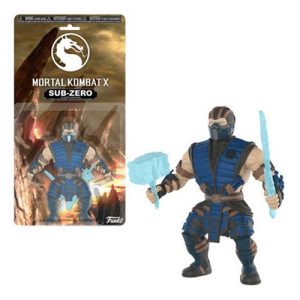 There have been no shortage of Mortal Kombat action figures over the years. The game's early days saw Hasbro get the license, and adapt the NetherRealm to the world of G.I. Joe, so it was off to a fast start in plastic. Since, there've been many different companies to take a spin at the fighting game classic. Some have been great, and some… not.
Currently, a few license holders like Storm Collectibles produce collector-grade figures based on several generations of Mortal Kombat. But even so, there's nothing quite like what Funko just announced.
Hitting the market this coming February, will be a series of figures that look like beefed up versions of something that you would have seen int he toy aisles back in the 80s. Based on MKX, the most recent Mortal Kombat release, this new retro line launches with a stacked initial wave.
Who's in it? Scorpion, Sub-Zero, Kitana, Raiden, and Liu Kang. Pretty nice right there. Each figure stands in at the aforementioned 5.5″, and costs just $14.99 USD. And just like the classic MOTU toys, each one comes with some cool accessories. Literally in Sub-Zero's case. Unlike classic MOTU though, they're pretty heavily detailed, as you can see.
While these are awesome in a few ways, one thing that they are not is highly poseable. The Mortal Kombat X line from Funko will have just 5 points of articulation – the shoulders, the neck, and the legs. Yep, that's it. These bad boys and girl are retro to the core, and perfectly in keeping with the toys of the era that they harken back to.
Check 'em out right here over at Entertainment Earth.