The third episode in the rapid, action packed war for post apacolytpic supremacy continued on Sunday night, as brutality really took center stage.
The war is heating up, and although the first three episodes have taken place on an abbreviated timetable, it feels like a lot more time than a few hours has passed.
The plot recap:
As many episodes before it, this one focused on a few different groups at different places. Rick (Andrew Lincoln), Daryl (Norman Reedus), Jesus (Tom Payne), Maggie (Lauren Cohen), and more staple characters all have a large part of this epispode.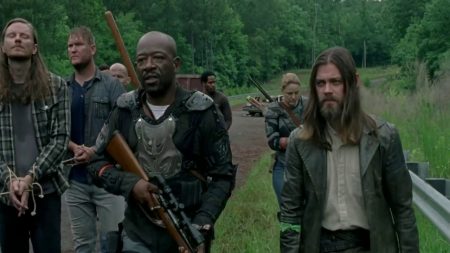 Rick's last episode ended when a face from the very first season recognized Rick and put him in a tough spot. A former friend, Morales (Juan Gabriel Pareja) is fighting for Negan (Jeffrey Dean Morgan) and corners Rick without a gun. The two have a brief conversation, and Morales tells Rick that the two men who met and were friends in Atlanta are dead. Now, the only difference between them is that Morales is luckier, in that he is the one with a gun.
Rick tells Morales that if he had the gun, Rick would work to find an alternative so no blood need be shed. Morales scoffs at this and acts as though it isn't possible. As if on cue, Daryl lodges a bolt in Morales' throat from off screen, saving Rick.
The two are about to leave the outpost when someone shoots at Rick. Giving the stray savior his word, Rick explains that if the stray gives our duo the info they need, they will let him live. The man trusts Rick, and after telling them that the heavy weapons were transported to a command post to the left, Daryl shoots and kills him. It is obvious that this shakes up Rick.
At the end of last episode, Eric (Jordan Woods-Robinson) waas shot. His boyfriend, Aaron (Ross Marquand) pulls him to safety. On this show, Aaron leaves Eric to return to the fight after a long goodbye, but upon his return, he finds that Eric has already turned and escaped.
Ezekiel's (Khary Payton) group deals with ambushed deftly for most of the show. The gorup's strategy far outweighs the brutish numbers the saviors employ. The show ends with this group being ambushed by a savior plot.
The most controversial bit of plot comes from Jesus' group. Morgan (Lennie James) belioeves that the savior prisoners need to be killed, lest they escape and cause more problems. A brief walker interuption allows a chained group of prisoners to run, and Morgan gives chase. When he finally catches up, he puts a bullet into one of the men before Jesus can step in.
The two fight, but it is obvious that Jesus is only working to disarm Morgan and get him to come to his senses. He eventually relents, but makes sure Jesus knows that while he is not right, he is also not wrong.
In the meantime, Gregory (Xander Berkely) returns to the Hilltop, where Maggie nearly turns him away before letting him come in. The group of prisoners that Jesus and Morgan were transporting appear at the end of the show, and all seems well.
My thoughts:
This was another solid episode of "The Walking Dead." Given the nature of the current plot arc, there is really no surprise that the show is comprised mostly of action. There are a few characters, though, that I would really like to see more of. We have no idea what is going on on Negan's side of the fighting, and that can only go on for a little longer before viewers begin to lose those plot threads.
It was very satisfying to see Rick's pendulum of morality swing back after another viscious period. Some people may argue that his flipping signifies weak moral character, but I would argue that it shows his willingness to change based on the circumstances.
It is tough to show satisfying character development through nonstop action, but it seems as though the AMC run zombie drama is finding its feet again in that regard.