Remember those cool Disney Afternoon figures that popped up about a month back? Well you can pre-order them as of right now.
Afternoon toons
The Disney Afternoon, for those uninitiated (or too young) was a block of afternoon programming for kids. Okay, actually it was all cartoons, I don't want to give you the impression there was anything educational in there.
If you were a kid in the late 80s/90s though, it was awesome. There were few finer feelings than coming home from school and putting the homework off for a while to snack and watch DuckTales. While Scrooge and Co might have been the most famous toon in the block though, it was far from the only one.
Disney aired a ton of great stuff in their Afternoon, including superhero spoof Darkwing Duck, Tailspin, and Chip n' Dale's Rescue Rangers. All of those were loads of fun, and all of them now have action figures from Funko. Well, almost anyway.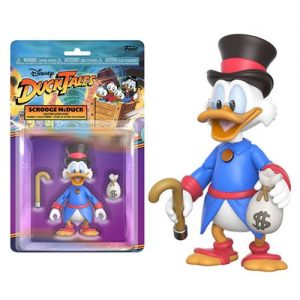 A limited collection of wave 1 offerings, you won't find any complete lineups here, but wow are these figures neat-looking. Wave 1 includes Scrooge McDuck, Baloo, Chip, Dale, Darkwing Duck, and a variant of DD.
The figures look fairly well articulated, and clock in at the 3.75″ scale. We've seen Darkwing Duck figures in the past, but nothing at that scale, so that's pretty neat too. And I also think it's worth mentioning that these are from Funko. And if there's anything that the Pop! guys have proven, it's that they're prolific figure-makers. So I'd imagine that if these sell well, we'll probably be in for future assortments.
I'm crossing my fingers for more DuckTales and Darkwing figures. Always my favorites back then.
Right now though, all of the above are pre-orderable through our buddies at Entertainment Earth. Click here to check 'em out.