Okay, so actually those are two separate things in that heading. There's a new campaign for both Total War: Warhammer titles, and plenty of the red stuff.
Blood, for the Blood God
Ouch. It is me, or did the gore-quotient just get kicked up a ton and a half? Oh, no apparently it's not just me. It's actually Blood for the Blood God, a new addition to total War: Warhammer II.
This "enhancement" for the Warhammer sequel is actually a sequel in and of itself. The original Total War: Warhammer game had the same DLC made available for it, and if you have that, then you get this one for free. That's a deal that's still out there too. So if you don't have the blood pack for the first game, and buy it now, you'll get both. Well, assuming you have Warhammer II that is. Kind of need the base game to get the blood pack for it to, you know, work. Or exist. Or something.
Now that we have the blood out of the way, let's talk about the meat of this week's announcements.
Mortal Empires
We've got a brand new campaign expansion to chat about. Mortal Empires is free for both games in the series, and "sees the Old World and the New World merged into a colossal new sandbox campaign, playable through the WARHAMMER II frontend". Sounds massive.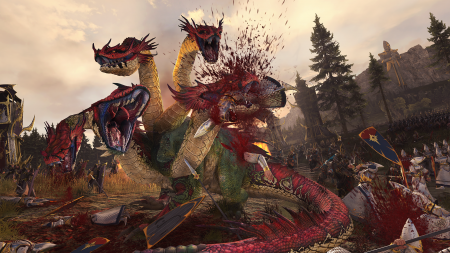 But what if you don't have either Total War: Warhammer game? Well you're in luck, that's what. This weekend the original Total War: Warhammer is 50% off on Steam. You can get in on those savings by clicking here. Just hustle if you do want the deal, because it ends on the 30th.
If it's just the blood and gore that you're looking for, click here for that. Oh, and the Mortal Empires? That's right here.