Publisher Dark Horse Comics is about to begin a detailed plunge into the Final Fantasy series. It begins with the Ultimania Archive.
Ultimania!
Is that even a word? Don't think so. Then again, it probably doesn't have to be, since it's resting on the cover of a Final Fantasy art book. I mean, you won't really be buying it for the title.
Final Fantasy Ultimania Archive is an astonishing journey through the creation of the seminal roleplaying epic, officially licensed for the first time ever!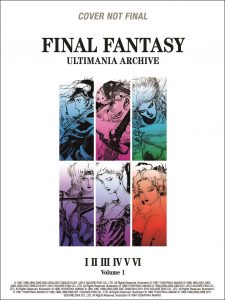 So what's that mean? Well, basically it means that Final Fantasy is getting the Dark Horse art book treatment, and then some. The publisher has tackled big video game licenses aplenty in the past, including Legend of Zelda, but the Ultimania Archive might be their biggest undertaking yet. I say that because this is the first of an initial six entries. Yes, I said initial. And it's going to start this series off with a bang.
This holy grail of Final Fantasy fandom is packed full of original concept art, process pieces, and notes from the original artists and designers chronicling the creation of these timeless games. Containing a total of over three hundred pages collected in a high-quality hard-cover binding, Final Fantasy Ultimania Archive Volume 1 remains faithful to its original Japanese source material while simultaneously offering unparalleled accessibility for Western readers. No Final Fantasy collection is complete without this beautiful tome of art, lore, and history.
Betcha can't wait to dig in. I'm not even really a fan and I'm dying to see the finished product. Unfortunately, there's still something of a wait for this one. The Ultimania Archive Volume 1 is set to arrive on bookshelves this coming June the 5th, 2018.