You've never seen the little mermaid looking like this. Then again, you've never seen her designed by artist J. Scott Campbell. Check out Sideshow's latest.
The little… mature mermaid
If you know the world of comics, then chances are you know J. Scott Campbell. The artist has lent his pencils to loads of big name heroes and villains, including The Amazing Spider-Man and Deja Thoris.
And now he's getting fantastical. I mean that as in, fantasy characters. Starting with the little mermaid, J. Scott Campbell's Fairytale Fantasies Collection will be a running line from the high-end statue makers at Sideshow.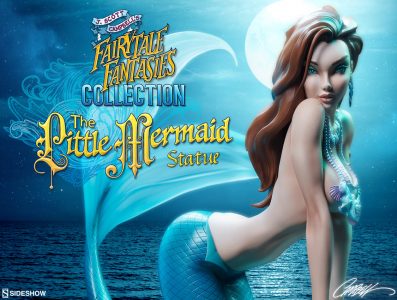 So how does a comic artist go from the printed page to a 3D statue? That's the magic of the pros at Sideshow, who translate Campbell's original artwork into the third-dimensional format. As you can see from the teaser image, they seem to do a pretty good job of it.
The Little Mermaid statue will be on display for the first time at Comic Con this week. So if you're heading to the show, make sure to go to the Sideshow booth (#1912) and check it out.
There's no release date as of yet, but you can add your name to an RSVP list right now. That way you'll stay in the loop on when you can order. Click here for that.