Yep, Marvel's premier super-team is having issues again. It looks like the're going to need all the help they can get in Avengers: No Surrender.
Assemble…
It kind of seems like this happened already. Maybe not too long ago either. Though, it kind of always seems like something like this is going on in the Avengers camp. Whatever happened to the good old days of fighting super villains as a -you know- team?
Well, whatever happened, Cap and crew are set to disassemble yet again. Marvel says this is the dawning of the "the team's final days" and that it's "the end of an Avengers Era as we know it". Though that might all sound a little samey, there are some big differences to Disassembled. This time, events will be playing out in weekly fashion, starting in issue #675 (man I love those big numbers) in January.
The arc will bring together three different Avengers teams too, so you know it's a biggie. So what is it? What could be so massive that it could unite The Avengers, Uncanny Avengers and U.S. Avengers?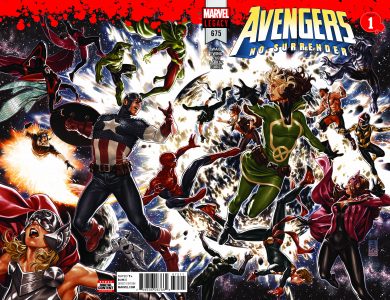 Well, the Lethal Legion and the Black Order are on the loose. And… it looks like somebody stole the Earth.
"The Earth has been stolen! That's the kickoff to the wildest AVENGERS epic ever put to paper, a widescreen adventure with a massive cast and an unlimited budget," teased SVP and Executive Editor Tom Brevoort. "Avengers past and present will be called upon to cope with a threat spanning out of the pages of MARVEL LEGACY #1. And like that oversized special, there's a huge character return or two along the way that fans have been asking for—and one that they didn't even know they wanted!"
Who's he talking about? No idea. What we do know though is that every team-member from all the current teams will play a part in No Surrender. That's a pretty big roster. Marvel teases that this is just the tup of the iceberg too, so this might be a crossover for the history books. Yes, even though we've seen something similar before.
From Mark Waid, Al Ewing, Jim Zub, and artist Pepe Larraz, watch for the wraparound lenticular covered (by Mark Brooks) Avengers #675 this January.