It's Destiny-mania as McFarlane Toys' Destiny figures start hitting stores right alongside Destiny 2 the game.
Plasticized Destiny
Known for their licensed properties and attention to detail, McFarlane is a bit of a legend in the toy biz. The company originally combined detail with posability to create some of the best figures out there back in the 90s. Since then, they've become more of a "collector" company, producing semi-posable statuettes.
But that all changes with Destiny.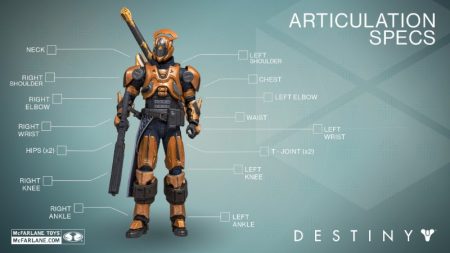 Not only do these figures look awesome, but they're nicely posable as well. Each Guardian included in this opening wave sports 14 points of articulation, and also includes a Destiny display base, so you can get 'em looking pretty much however you like.
It's a solid assortment too, with 7 figures in total appearing in the first volley. The majority of these are exclusives (4 of them) though, so you'll have to do a little hunting if you want all of them. Not unlike searching for loot in the game itself I guess.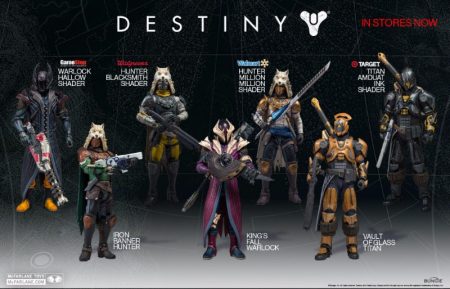 Past those, there's also a jumbo-sized fig in the form of Lord Saladin (10″ tall), and a role-play "weapon". A replica of the devastating Gjallarhorn is on the way, and will be exclusive to GameStop stores.
The Iron Gjallarhorn is 44″ long, and plays an assortment of sounds form the game. "Aiming, target lock, firing, rocket detonation and residual "Wolfpack Rounds" are all activated via the trigger. The Gjallarhorn will run you $149.99 USD, and will be available this Holiday. You can pre-order one here.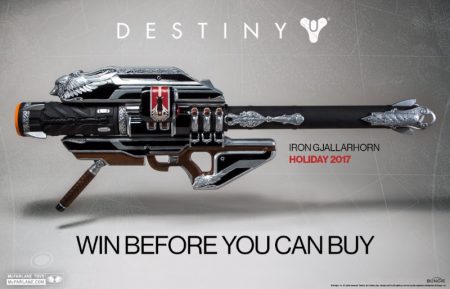 If, however, you don't really want to buy one, you can always try to win a Gjallarhorn for yourself.
Entering the contest, which is straight from McFarlane, is pretty easy. Just click here, fill the form, add a few likes and whatnot, and away you go. You've got a little while yet to enter, but not a ton as the contest ends on the 17th of this month. So maybe head over as soon as you can, if you're keen on getting a shot at winning.