So what's the follow up to Mario + Rabbids? LEGO Worlds of course.
A LEGO Maniac
LEGO Worlds hits the Nintendo Switch this week. Available since March on other platforms, the game offers a pretty new experience for fans of the little plastic bricks. As you might imagine, players can build to their hearts content in the game, offering something that could be one of those perfect fits for the Switch.
Also arriving this week for the Switch is League of Evil, RBI Baseball '17 (finally), and the Neo Geo's Zed Blade, among others. All in all, it's another nice week for Nintendo's latest, and marks the continuing shift away from the company's other platforms for new games.
It's been a while since we've seen a Download that focused on the 3DS after all. Or the Wii U for that matter. And that's a big plus for Nintendo, who really did have to move on.
Here's what's out now, or hitting this Tuesday:
Nintendo eShop on Nintendo Switch
LEGO Worlds– The LEGO Worlds game is a galaxy of imaginative Worlds made entirely of LEGO bricks that lets players explore, discover and create together. Starter Worlds help players master the skills and tools they'll need to unlock their true creative potential and explore myriad Worlds. LEGO Worlds will be available on

Sept. 5

.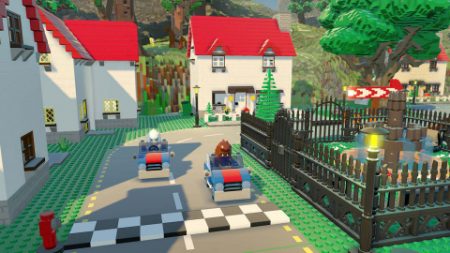 Nintendo eShop sales:
Nintendo eShop on Wii U and Nintendo 3DS
Activities:
Fire Emblem Heroes

Choose a Special Hero for Your Army – Before the Fire Emblem Heroes mobile game launched, a Choose Your Legends event was held to determine the most popular Fire Emblem characters. Now special versions of the four winning Heroes can be summoned in game. Plus, to thank fans for their participation, we're letting them pick whichever one of these four Special Heroes they like best for FREE (without using Orbs)! The one chosen will be summoned as a five-star Hero. Then, players can use Orbs for a chance to summon the other three Heroes. But act fast – this event ends

Sept. 14 at 11:59 p.m. PT

.
Voting Gauntlet – The top eight finishers from the Choose Your Legends event are going head-to-head. Get in on the action before it ends on

Sept. 5 at 8:59 p.m. PT

.

My Nintendo Rewards

Celebrate a month full of Pokémon games with new My Nintendo rewards. On

Sept. 22

, the fast-paced fighting game Pokkén Tournament DX lands on the Nintendo Switch console. On that same day, two of the most beloved Pokémon games of all time, Pokémon Gold Version and Pokémon Silver Version, arrive on the Virtual Console service for the Nintendo 3DS family of systems. To help celebrate, My Nintendo is offering some great, themed Pokémon rewards. Redeem your points now and get the new September calendar to help you prepare for the big day.
Also new this week: