No, I'm not kidding. Dead Rising 4: Frank's Big Package  is set to arrive on the PS4 just in time for the Holidays.
Nothing says Christmas like zombies
You know the story already. Frank West, famed photog, is back for another go-around with Capcom's zany-yet-dark zombie universe in Dead Rising 4. The game arrived on the Xbox One last Holiday, and now one year later it's shambling towards the PS4. But this won't be a vanilla copy. Nope, Sony gamers are getting Frank's Big Package.
In the, uh, Big Package edition of DR4 gamers will be in store for the main game and so much more. All previously released content for Dead Rising 4 will be included, along with something new.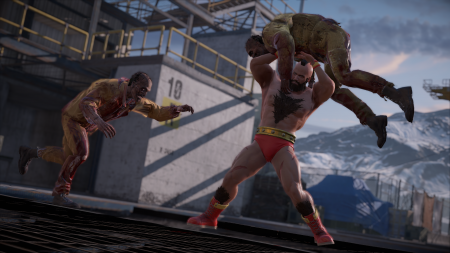 A game mode called "Capcom Heroes" is making its debut in the Big Package edition, and it'll allow gamers to play dressed up as a selection of characters from other games. Frank won't be simply dressed as some of these characters either, as he'll also be able to perform special moves based on them. That's actually pretty cool, and perfectly in keeping with Dead Rising's theme.
Here's what's included:
Dead Rising 4 – Latest version of the main game with all difficulty settings.
All downloadable content – Stocking Stuffer Holiday Pack, Frank Rising and Super Ultra Dead Rising 4 Mini Golf.
All bonus content – Street Fighter Outfit Pack, My Bloody Valentine Pack, Candy Cane Crossbow, Slicecycle, Sir-Ice-A-Lot, Ugly Winter Sweater and X-Fists.
Running $49.99 USD, Dead Rising 4 is set to hit the PS4 on December 5th.