Are you still looking for a Nintendo Switch console? If so, then you're going to want to watch Walmart. They're getting a bundle with one of Nintendo's biggest releases included.
A colorful bundle
The Switch has been a hit for Nintendo, but as usual that has meant that the console hasn't been that easy to find. But if you're still on the lookout for one, then you've got some welcome news today, as Nintendo is releasing a special bundle pack.
Exclusive to Walmart stores, the pack will include not just the Switch hardware, but a nice selection of Splatoon accessories. You'll get a copy of Splatoon 2, a Splatoon carrying case, and a set of Splatoon joy-cons.
If you're a collector, you're going to like the packaging too, as it's coated with Splatoon art.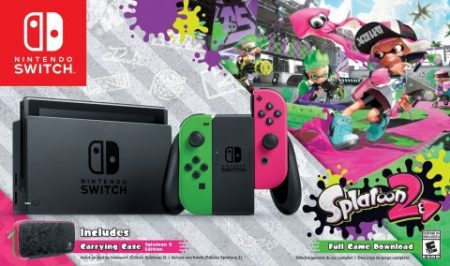 Interestingly enough though, this set isn't a particularly new idea for Nintendo. The company apparently has similar kits for sale in other territories. Doug Bowser explains:
"Consumers in Japan and Europe have already had a strong response to Splatoon 2 bundles in their territories," said Doug Bowser, Nintendo of America's Senior Vice President of Sales and Marketing. "This exclusive Walmart bundle gives people who have been waiting to buy a Nintendo Switch a great value and incentive to get splatting."
The set will cost you $349.99 USD, and be on shelves as of September 8th. Unfortunately that means that it'll miss the latest splatfest that has been announced. Flight vs Invisibility (it is superpower-themed) will be held on the 1st through the 2nd.
Oh well, can't have everything.