There have been A LOT of announcements pertaining to Universal's new monster-verse, the Dark Universe. We wrap 'em up all tidy for you right here. Read on monster-fans.
A universe in the dark
So what is the Dark Universe? Well, simply put, it's Universal Pictures' stab at a shared-universe of films, like Disney's Marvel and Warner Bros' DC. It's also been in the works for quite a while. Originally, Dracula Untold was set to be the first movie in the series, but when that tanked at the box office, plans were reset.
So here we are in 2017 with Tom Cruise's The Mummy, and things are finally moving forward. With Cruise onboard, it's probably a foregone conclusion that the movie will make some cash, so Universal can afford themselves some confidence this time around. Well, a little anyway. Shortly after the title of Dark Universe was announced, Warner's objected. Remember that that was the title-to-be for the Justice League Dark movie.
And even though it remains to be seen what will happen with JLD, the name might still belong to them. So, we'll see. But that won't stop the movies, 'cause they're still on the way. Oh are they on the way.
After The Mummy, terror gets a Bride
With The Mummy kicking things off this week on June 8th, we're getting a major monster right of the bat. But what's after that? Will other staple creeps be making the return to the silver screen as well? The answer, fiendish followers, is 'yes and no'.
Following the pretty great looking new take on The Mummy will be Bride of Frankenstein. No, not Frankenstein, Bride of Frankenstein. It's an interesting twist, and one that I'm guessing means that The Monster will already be around in the Dark U. That's pretty neat, especially considering that we've seen Frankenstein movies over and over again, and his origin is well-known. Bride though? Not so much.
Oh sure, she's a known commodity, but her character is pretty much a blank slate. Given the pretty big changes that we've seen so far as to the character of The Mummy, that could mean some cool stuff is on the way with Bride too. That film also has a release date too, February 14th, 2019. Yep, that's Valentine's Day, and yep, that's a year and half from now.
Also worth noting is that there's been no announcement made as to who the star of this new movie might be. Though it's been noted by several movie sites online that Angelina Jolie's name has been floating about.
Star-powered frights
Speaking of stars like Jolie, Dark Universe isn't exactly afraid of casting big names as its title characters. Tom Cruise stars in The Mummy as a soldier named Nick Morton. Not a one-off character, it seems as though he might be one of the central figures of the shared-universe. Remember that promotional material for The Mummy is hinting that Princess Ahmanet has somehow cursed him, so he might be more monster than man by the end of the film.
Speaking of, Ahmanet herself is played by Sofia Boutella and the movie also stars Russel Crowe as Dr. Henry Jekyll. Apparently, Jekyll leads the 'heroic' forces of the Dark U, and is already a bit of a split personality when The Mummy opens. That's a good deal of star power right there. And there were more announced just this week.
Pirates of the Caribbean's Johnny Depp himself has been cast as the Invisible Man, and Javier Bardem will be none other than Frankenstein's Monster.
Both will appear in Bride of Frankenstein, which is interesting. Using title films to intro not only the main monster, but also new characters is a solid idea. It's also a proven one, if you take a glance at Marvel.
I should add that one of the core creative people overseeing the Dark U, Alex Kurtzman, has also said that these characters might get their own films as well. I guess it depends on fan reactions, though I can't imagine people not liking Depp or Bardem in these roles. Bardem in particular. I think his could end up being a phenomenal casting.
Rumors have also been flying about Dwayne Johnson being cast as The Wolfman, though nothing has been made official. Kurtzman actually didn't even mention his name in an article on Wiki's Fandom. And that was a piece that also had him mentioning some actors that he'd like to see involved, like Michael Fassbender and the aforementioned Jolie. So basically, take The Rock's name with a grain of salt right now. Heck, The Wolfman hasn't even been talked about as a movie, or added character either.
Beasts yet to come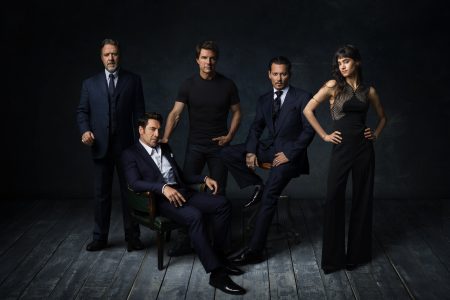 Wolfman is just one character that's yet to be announced, though there have been more than just the above. Kurtzman also let it out that that are a few more major properties on the way, tying into the Dark Universe. The Phantom of the Opera will be coming up, as will The Hunchback of Notre Dame, The Creature from the Black Lagoon, and… Dracula.
Yes, Drac wil most definitely be back. It remains to be seen who'll play one of the greatest forces of evil ever, or how he'll be worked into the Dark U. Still though, it's awesome to know for sure that this classic will be re-forged and worked into the monster-verse.
Presumably, Dracula will get a film (or spinoff series) all to himself, though that's yet to be announced. Remember that the only thing we know beyond doubt is that the Bride will be the next big Dark Universe star, and that her story will feature a few more big names.
Hard to think that this is anything but good for monster fans though. There's so much to look forward to right now, and we've not even seen the first film in the series yet. Speaking of, the Mummy opens this Thursday, June the 8th.