Ever wanted to use a keyboard and mouse on your Xbox or PlayStation? If you're an FPS fan, chances are you have, and that's exactly what IOGEAR's Keymander allows.
PC advantage on your console
I'm mainly a console gamer at this point in my life, but that wasn't always the case. In the 90s, the FPS scene was almost exclusively a PC one. Sure, there were console first-person shooters around, but they usually didn't have the flair of the PC entries in the genre, and most definitely didn't play as well.
A big part of that, was the precision and speed that you could get out of a keyboard and mouse combo. A controller couldn't stand up to that, not by a long shot. Today, FPS' have gotten way better on consoles. The Xbox and PlayStation family of systems both have some excellent entries, most of which are on par with PC siblings. And some, like the Halo and Killzone series, that (mostly) aren't even on the PC at all.
Still though, there's that advantage. The controllers of today might be head and shoulders better than the ones around 20 years back, but they're still no match for a keyboard and mouse. So the PC will always have an advantage… right?
Well, no actually, since the little device that we're looking at today basically erases that PC controller dominance. The Keymander is an ever so slightly odd add-on for the Xbox One, 360, PS4 and PS3. It works with all the consoles above, and to out it simply- lets you use a keyboard and mouse instead of a controller. So with it, you can blast away at the Covenant in Halo 5 with all the spot-on control that you'd get if you were playing on your computer.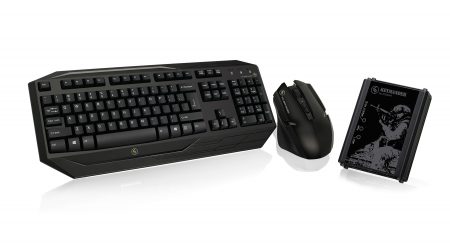 Easy to setup
Getting started with the KeyMander couldn't be much easier, and that was something of a relief. When you unpack the bundle set that we're reviewing here, there's seemingly a lot to it, but there's a place for everything and it's honestly not at all daunting when you get into it.
The unit itself is made of a heavy, black metal that's really neat to look at. Three LED lights are on the top, while all the rest of the action is located on the sides. The back has ports to attache the KeyMander to your PC and console of choice, while the front has a trio of USB inputs.
What are those for? Your keyboard, mouse… and controller.
Yes, you still need to have a controller on hand when you use the KeyMander. And it does indeed have to be wired. Though you can definitely use your wireless pad, jacked in via a USB cable. That's no issue. The reason, by the way, is so you can map functions.
The KeyMander can be used right out of the box though. But I'll add to that, that IOGEAR does recommend you run the installer on a PC first. They have a number of options in the software for tweaking your device, and they say it's the best way to get the most out of it.
There are profiles already loaded onto it, and more that you can download. You can grab those off of the KeyMander forums, which you'll want to join. You won't find one for every FPS out there, but for those who feel like tweaks are a headache, the ready-to-go profiles are very nice. Don't worry though, if you prefer to make your own, you can do that to your heart's content as well.

Oh, and all of this is apparently affected to some degree by what keyboard and mouse combo that you use too. Yep, while the KeyMander can be used with almost anything, your mileage may vary. Speaking of that, the included equipment in the pack that we got was pretty darn solid.
Kaliber Gaming board and mouse
Not the star of this particular show, but worth a mention nonetheless, are the included keyboard and mouse. I've had the pleasure of playing around with some pretty high quality stuff over the years in this category, and I have to say these are extremely solid.
The keyboard in the pack is wireless, though somewhat no-frills. That's something though, that's relatively inconsequential in practice, and this one quits itself nicely. I do have to mention that the keys are just a wee bit spongy, but they're not bad at all and do the job.
As for the mouse, that's a fair bit cooler with some added buttons (including DPI up and down) and a nice look overall. It's also got some nice grippy texture pads on the sides that I liked a lot. The mouse also holds the receiver that you'll need to plug into the KeyMander itself.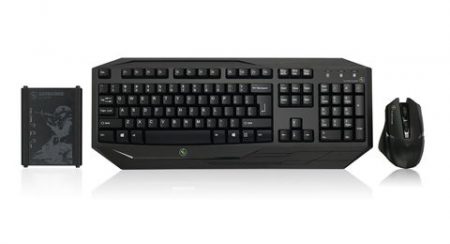 Now, there is one thing that I'll mention here too, and it's the biggest downside to the whole thing.
I'm talking, of course, about the fact that this is a keyboard and mouse. Think about what that might mean if you're applying video games on a bog old TV. Bottom line – this isn't the greatest thing for those who game in the living room.
That's not to say that it can't be done, but using a keyboard and mouse combo on the couch isn't the most fluid of experiences. If you're going to do that, your best bet is to probably set up a TV tray. You're going to need something that's got a nice surface area that can actually accommodate what's essentially a PC gaming setup.
Other than that though, there aren't too many downsides to this bad boy. So if you have a nice high coffee table, or a tray that you can pull up, well then you're probably good to go.
So let's get back to the KeyMander itself
I think it's fair to say that, despite a few little things, there's a lot going for this device. I wouldn't say however, that the KeyMander is as easy to use as a plug and play controller. In messing around with the software, I will warn you that it can get a little time-consuming. You can really dig into the customization. Creating multiple profiles even for just a single game is possible. You can make one if you're on foot, or driving a vehicle for example.
Honestly, it can get a little daunting for those who prefer the ease of console games. I mean, if you prefer consoles to PC's, there's probably a reason. Other than the cost associated, you probably like not having to worry and/or mess around with stuff like this. If you don't mind that though, or if you're willing to get your hands dirty (well, a little bit dirty), then the KeyMander could be a real game-changer for you.
Once you get things to your liking, it's a dream. The KeyMander does a terrific job of emulating the PC experience of control on a console. And it can provide something that's vastly superior to what a controller can do. I'll put it like this: have you ever cursed an analog stick for being too slow and sluggish? If the answer's 'yes', then IOGEAR's latest is worth a very serious look.
Take control
Excellent control options - 95%
Optimization that may turn some off - 85%
Solid included keyboard and mouse - 80%
There isn't too much to dislike about this one. The KeyMander is a simple piece of technology that can change your console game for the better, offering a top notch level of control that you'd normally only associate with a PC. Just be warned, getting the most out of it will require a little fussing, and you might need to invest in a nice tray if you're planning on using it from your couch.