One of the latest in the new series of Mortal Kombat figures from Storm, Reptile might be the coolest one yet.
Test your might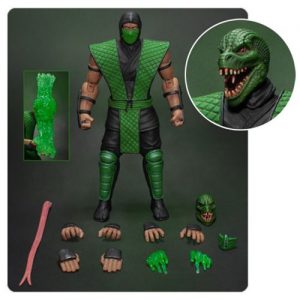 Oh my is this an awesome little figure. I've been following Storm Collectibles' new MK figures for a while now, and while both Scorpion and Sub-Zero are great looking, Reptile looks absolutely killer.
You get a nice assortment of accessories with this guy, including extra hands and snap-on parts mimicking his special moves. But there's more – so, so much more. You'll also find a pair of ninja masks in the pack. That's so you can make him look like either his original Mortal Kombat form, or dress him in a more MKII-ish guise.
Then there's the extra head. If you've seen Scorpion, then you know he comes with a skull head to reenact his Fatality. Reptile? He's getting the same treatment with an awesome lizard/dinosaur noggin. Better yet, he also comes with a tongue that you can have him lashing out with. Super cool stuff.

As for scale, Reptile stands in at the line's 1:12 height, and will sport 20 points of articulation. These figures aren't cheap at $54.99 USD each, but they certainly look to be the nicest MK figures around.
Reptile can be snapped up and added to your collection when he arrives this October. You can pre-order him right here at Entertainment Earth.