The Thundercats leader himself, Lion-O will be the first Summer exclusive from Mezco Toyz. 
Thunder, thunder, Thundercats Hoooooooo
So what's so special about this particular Lion-O? What makes him different than the standard Mezco release? Well, that's pretty easy, because as you can see form the pic- he lights up. Yes, featuring light-up eyes, this Lion-O is ready to unleash the Sight beyond Sight.
According to Mezco, the figure will feature a "discrete" switch behind his head to activate the feature. It's nice to hear that from them, since nothing can ruin an action figure's look faster than a terribly placed action feature.
I should also mention that this isn't your usual 7″ figure either, as Lion-O will stand an impressive fourteen inches tall. This is the most iconic look that the character sported too, straight from the animated show in the 80s, and he'll come with seven points of articulation, so you can get few good poses out of him.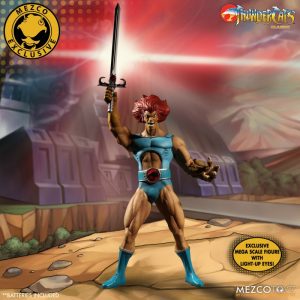 In all, this special edition will feature:
Open mouth roaring head featuring light-up eyes
Removable Claw Shield
Sword of Omens (long version)
Sword of Omens (short version)
And of course, as is the norm with Mezco stuff, he'll come packed in collector friendly packaging too. As for a release date, you can expect to see him ship out sometime later in the Summer, between July and August.
He can be picked up at the Mezco booth on the show floor at SDCC of course, or ordered exclusively through the company's site here.