Ever thought about a standing desk? More than just a trend, high quality standing desks from companies like HADO are starting to catch on big time and with good reason. Take a gander at Autonomous Smart Office's offering to see why.
A desk for all seasons
I've never worked at a standing desk before. In fact, I wasn't all that keen on them when they first broke through to the mainstream a few years back. One of the biggest reasons for that was that I was under the assumption that they were in 'standing' position all the time.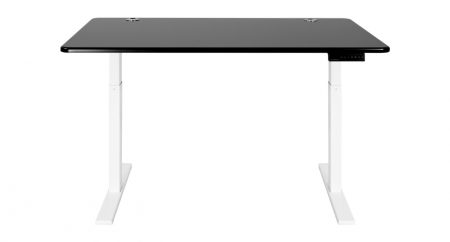 Who'd want to not be able to sit down? I mean, that sounds crazy, especially for someone who's constantly sitting throughout the day, and very used to working like that. Well, I was wrong. About so, so many things.
First of all, a standing desk isn't stuck in one position. At least, not this bad boy. Autonomous Smart Office's SmartDesk 2 comes packing a full-on motor system that actually raises and lowers the desk at your command. And yes, that means you can lower it all the way down and actually use a chair. You know, if that's your thing.
It's also a super-customizable device that can be outfitted in a few different ways, all to better serve the user. And my goodness, is it amazingly cool. Let's dig in.
The meat and potatoes (or how I came to love the standing desk)
Obviously, the big feature here is the ability to adjust the height of the SmartDesk 2. And it has a massive range. You can go from a little too low to the ground, to a height that will basically have you raising your arms to type. At least, it did for me, and I'm over six feet tall.
This is all accomplished via a small panel called the Smart Keypad that sits at the front of the unit. It has up and down buttons, as well as a series of presets that you can take advantage of, to give you one button access to seated or standing positions. To say that it's "easy to use" is an understatement. It's beyond simple.
The only thing that you should be aware of here, is that you might have to reset the controls fresh from the box.
I had a day's worth (on and off) of trying to figure out what was wrong and why my desk wasn't working, before I looked at the instructions. That's a common theme for me. Once I did, I read that you do have to reset the controls on occasion, when the item is fresh from the factory. That took two seconds and then I was on my way.
Standing at a desk is something all together new for me, as I mentioned. Very quickly though, it became my preference. According to Autonomous , standing while you work is a good deal healthier than being seated. It's not hard to figure why, since being sedentary for hours at a time is never a good thing.
And I find that, while standing, I tend to move around way more in general. Constantly shifting on my feet aside, I'm also much more inclined to walk across the room to grab something, or even just move about while I'm waiting for something to download or a program to start. They say that moving is "key to maintaining healthy circulation and focus" and that makes sense to me.
As I mentioned too, you can sit as well. That's a nice option for later on in the day, or if you have lunch at your workstation.
Customizing a space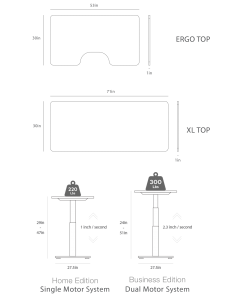 Another neat thing about the SmartDesk 2 is that you can add a whole bunch of options to it, if you like. Even the desktop can be customized, with a few stellar options. I chose the ergonomic top, which has a cutout for you, so that you can stand or sit in a kind of groove, resting your elbows comfortably with more than enough room for your body.
As you can see too, the top is over two feet deep, which means that you should have more than enough room for all your stuff. Yep, that Super Mario statue will fit just fine. You know, right along side your important work… stuff. But maybe the ego top is a little too snug for you? What if you need more room? Well as I mentioned too, there are options.
The XL top offers a stunning 71″ of room, over the ergo's 53″. I can attest to the fact that the ergo offers more than enough for me, but if you need max space, the XL looks like it should fit the bill. It's also got the same 30″ depth as the ergo by the way, so it's nice and deep.
Another important factor is what you'll be putting on top of your desk. That's because Autonomous offers a pair of options when it comes to motors. The standard model is the Home Edition, and it can lift about 200 pounds on its back. That's a lot, but the Business Edition can hoist a hundred more with its dual-motor system. 300 pounds should take care of almost anyone's needs I'd think.
The niceties
The top of the SmartDesk 2, aside from all ergo features, also has a pretty awesome little passthrough system for cables. As with most desktops, mine gets cluttered pretty quick with computer cables and assorted annoying wires. This isn't as much of a problem as it might usually be thanks to the desk's dual ports, one on each side. Just pass the cable in question through, and you'll have a little less hanging over the back of your workspace. Always a good thing.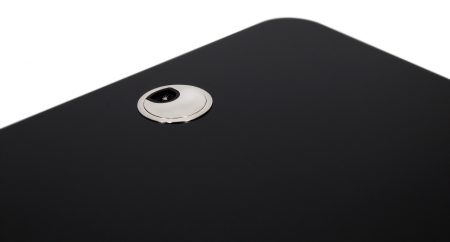 There are also a myriad of accessory options available. There's an awesome little accessory pack that I picked up, that has a bunch of cool stuff in it. You get a bag hook, a headphone hook, and a wireless charging pad. Best of all though, it comes packed with a seven port USB charger and a bluetooth speaker that attaches to the desk's underside. How cool is that? It's not badly priced either at $75.oo USD.
And on top of all this, the SmartDesk 2 also includes a one year warrantee for the Home and a five year warrantee for the Business edition. While a year is okay, that five year is pretty fantastic. Oh, and did I mention that there are five different finish options for the desk itself?
I have a pretty straight forward personal space that I got mine for, so I went with the black that you see in the images. I have to add though that that walnut is pretty nice too. I could easily see that in a more open office setting, or even in a living room. Might I need two standing desks? Possibly…
Autonomous SmartDesk 2
Release date: Available now
Made by: Autonomous Smart Office
Availability: Direct
Standing comfort
A smooth lifting system, that's strong enough for your stuff - 100%
Slick looks that are incredibly customizable - 95%
Awesome add-ons, though at additional cost - 90%
There's nothing that I don't like about this desk. I mean, literally nothing. Well, other than the fact that I had to put it together I mean. The top is slick, with a cool black finish, it's got twin passthroughs for cables, an ergonomic cutout, and can lift 300 pounds worth of equipment with ease. I can't imagine this not being my workspace for years to come, and I wouldn't hesitate to buy another down the road. If you're interested in standing desks at all, give Autonomous Smart Offices's stuff a look.