Summer is almost upon us, and Udon has another round of swimsuit-clad fighting game women in store for fans. The Street Fighter & Friends Swimsuit Special is on the way.
The World Warriors and so much more, wearing so much less
Ah pinups. A classic art form that doesn't seem to lose appeal… well pretty much ever. On top of that is publisher Udon, the masters of all things Capcom when it comes to comic books. Once again, the famed fighting game characters of the Capcom universe will be appearing in their bathing attire, though this time they'll be joined by some friends.
Udon says that the Street Fighters will be teamed with "their fighting game friends from Darkstalkers, Rival Schools, and Final Fight!" And that means that not only will you see Chun-Li and Cammy in these pages, but also also the likes of "Morrigan, Tiffany, Poison and many more fan-favorite fighters!"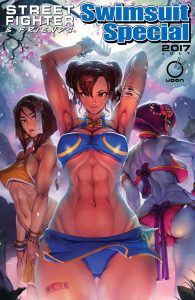 As usual too with Udon, there'll be a nice slate of variant covers available. Artists Ecchi-Star, Aki Li, and Ryan Kinnaird will all have covers for themselves, and there'll also be a blank edition, as well as retailer exclusive cover from Joe Vriens. That one sounds particularly neat as it'll be starring Darkstalkers' Morrigan, and will be patterned after "a classic horror image from the 1960s."
And the interior talent? There's plenty on tap.
Andrea Cofrancesco
Brendon Tapper
Chad Walker
Chuck Pires
Dax Gordine
Elton Portilho
Genzoman
Gisèle Lagacé
Hanzo Steinbach
Jeffrey "Chamba" Cruz
John Crayton
Judy Jong
Kinuko
Martin Abel
Mike Luckas
Omar Dogan
Panzer
Rob "Robaato" Porter
Slugbox
Xa
Expect the special pinup issue to be on the racks as of July 27th, 2017.