Get ready for another reason to dig into the Happy Meals at McDonald's: Super Mario toys make their debut today!
The promotion runs from today, April 26, through May 22. Each Happy Meal brings with it one of eight toys inspired by Mario and other characters from the Mushroom Kingdom. The press release announcing the promotion points out that these characters also appear in the upcoming Mario Kart 8 Deluxe, which is set for release on Friday, April 28. You won't be able to purchase Mario Kart 8 at McDonald's, though.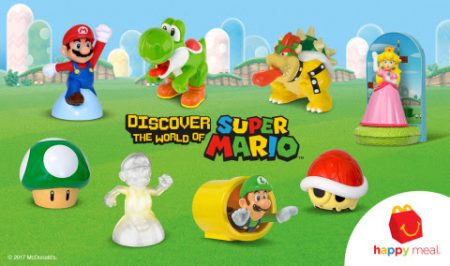 "Nintendo is always looking for ways to expand its brand, and a partnership with the family-friendly McDonald's restaurants felt like a great fit," said Doug Bowser, Nintendo of America's Senior Vice President of Sales and Marketing in the press release. "Like Mario, Happy Meals are something both kids and parents grew up with," Bowser said.
The toys include Mario, Yoshi, Princess Peach, Luigi, a red Koopa shell, Bowser, and some translucent Mario. Families can also enter to win a Mario Kart 8 and Nintendo Switch prize pack, the release says.
"When Mario Kart 8 Deluxe launches on April 28, it will do so with more characters, karts and tracks than any other game in Mario Kart history. This racing game is the definitive version of Mario Kart 8 and includes a revamped Battle Mode that players of all ages can enjoy together," the release reads.