Two new Disney inspired comic series, including DuckTales, are on their way this year from publisher IDW.
The comic announcements, made via a press release, have something for old school and new school Disney fans.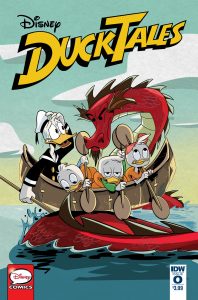 The one I am the most excited about, and most people who know about the source material I am sure, is DuckTales. The new book will begin with an issue 0, which launches in July for $3.99. The press release indicates that the new series will include popular characters such as Donald Duck, Uncle Scrooge, Huey, Dewey, and Louie. The book will be modeled after the new TV show reboot, which is set to premier later this year.
The second book is based on Tangled. Tangled: The Series kicks off with a graphic novel collection titled "Adventure is Calling." The Tangled book launches in August. The 72-page book will run you $9.99.
In the press release, IDW Group Editor Sarah Gaydos said "We're extremely excited to expand IDW's relationship with Disney. There's a lot of buzz surrounding both of these new animated series and we aim to live up to, and exceed, fan expectations."