Save the world from Dr. H8 in 88 Heroes, developed by Bitmap Bureau and published by Rising Star Games. This crazy 2D side-scrolling platformer is full of high jinks and B-rated heroes.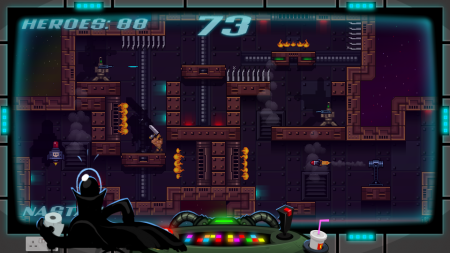 Meet The Cast Of 88 Heroes
The cast of heroes is extensive in 88 Heroes. Each time a player dies, a new hero enters the level. The heroes all have unique skills. For example; Blocktopus can create new blocks out of thin air, Gonan has a giant sword and can cut through walls and Blastertron is a missile-shooting robot. These are just three of the crazy heroes that will be available to players. Now that the heroes are out of the way, let's discuss the gameplay.
Players Will Have 88 Seconds To Beat Each Level
The number 88 is the key to this game. For each level, players will have 88 seconds to beat the level or die. There are a total of 88 levels across four worlds. There are obviously 88 Heroes to work with in the game. This game has a great sense of humor. The release date for this game is in March and will release with a physical copy as well as a digital title on the PC, PlayStation 4 and Xbox One.